Lust For Rust Whale Shark Week
We left Tanah Merah Ferry Terminal, Singapore (TMFT) Friday night on board the Mata Ikan (live on board boat) with 6 rebreather divers and 5 open circuit tech divers and headed straight to the first wreck of the week, Aur Tanker (which by its name is just off the coast of Pulau Aur, Malaysia).
Liam did a good job securing the main line to the Aur Tanker wreck on the first go.  The current was a bit strong, but depleted all day to nothing.  Anyway enough about that, let's talk about Whale Sharks.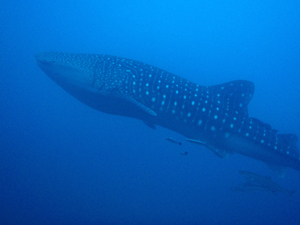 At the bottom of the line and right above the wreck at 45m, we were greeted by the biggest Whale Shark I have ever seen.  It must have been 8m if not 10m long, the width from one side of its head to the other, or from gill to gill across its body was wider than a Mini S Cooper.   Awesome I thought and so did everyone else.  We continued to dive and had a look around inside.
During dive 2 and 3, two more smaller Whale Sharks were sighted, another one on the wreck which was a small baby about 3-4m long and another curious one checked out the guys on the deco platform. This one was mid size maybe 5-6m long.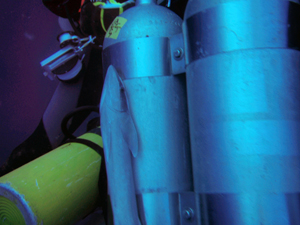 During our deco stops the remoras that were with the Whale Sharks tried to use us as their new hosts, one even attached itself to Paul's twin tanks.
Oh and then was too many jellyfish, everyone got stung.  Not a bad 1st day, 3 Whalesharks and some awesome wreck diving.
Day 2 we dived the HMS Repulse and Liam had another first successful tie off on the props.
The Whale Shark mania continued with two more sighted.

I went down the line to be greeted by another small Whale Shark. Tobias, Paul and Jean-Baptiste spent 20 minutes with a medium small one during their deep deco stops and it returned to them at their 6m deco stop.
The rebreather boys had some fun and some extremely long run times where chalked up. Don did a 3 hour dive during his 6 metre deco he showed me is dive computer and the time to surface said 54 minutes.  Crazy Americans….:)
It was only after the second dive on the Repulse that I realized that Shin, Japanese and Tobias, English were diving together, how time changes man.  Tobias showed his respect to the fallen with the Union Jack on his rebreather

We settled in for dinner and looked forward to another day diving the Repulse.
The 2nd and 3rd days on the Repulse were excellent.  Although a stronger than expected current was present and it sure made the deco stops a little tough until we reached the deco platform and clipped on and went to sleep:).
Unfortunately we did not see any more Whale Sharks at the Repulse, so we spent two days enjoying all the Repulse has to offer.   Liam and I did an awesome dive and we explored it throughly, we had a good look at 4 inch guns and the 15 inch guns and we went all the way to the stern, where Liam tied off three days ago.
We discussed that evening over dinner the total number of sightings of Whale Sharks and we all agreed on 7 different Whale Sharks (and yes we did look at photograhic evidence).  Not bad for two days diving.  I guess they have gone south now for their yearly migration in search of food.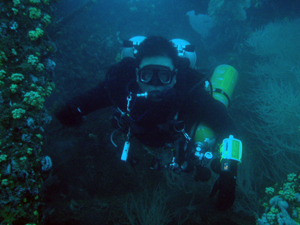 Congratulations to James on completing your TDI Extended Range and Trimix Courses.  Welcome to the deep blue!
A summary of guests, left to right:  Shin – Japanese, Paul – English,  Liam – Irish, Don – Team America, Tobias – product of many countries (Tobias asked me to type that) Gary – Australian, Steve – Team America, Jean-Baptiste – French,  Bruce – Team America, Davy – Singaporean and James – Singaporean.
Team America travelled from the USA to dive the HMS Repulse. Keen….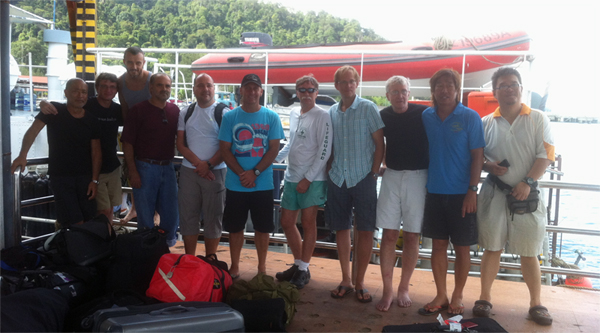 BTW did you know that the Uwatec Bottom Timer resets itself  back to zero after 140 minutes.  Very disconcerning during a deco stop on the deco platform watching it revert back to 1 minute, 2 minutes, 3 minutes etc.  What a short dive?