Paul and Phillip signed up for TDI intro to Tech and TDI Advanced Nitrox a few months back, we finally got our schedule sorted and completed the theory in Singapore, but missed the pool session due to Paul's flying commitments.
We were up crazy early Monday morning to take bus and then ferry to Tioman for 2 days of diving. By crazy early I mean 5am for a 6am bus…sleepy and with no coffee I found the boys at The Golden Mile Complex, Singapore.  Not long after, I located Victoria and Toby, who were visiting family in Singapore and wanted to go diving.  Both have PADI professional ratings and were easy to cater for.
As soon as we arrived at Tioman, Malaysia it was raining and pretty much did not stop until we left on Wednesday, bit of a change from my previous trips.
U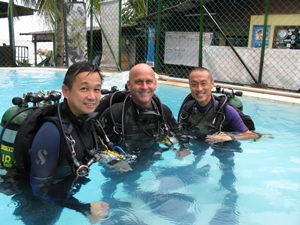 pon arrival we did our pool session in the rain.
Then, during the first dive I found myself  laughing to myself a little watching Philip and Paul struggle down to the beach for a shore dive after the pool session.  Both guys found the twins and stage tank a bit heavy and not very comfortable to wear whilst walking across rocks.  They managed to get in the water and compete the first dive loaded with skills.
Karen pottered around while the boys did their skills and enjoyed using her camera.

We managed to find "Ghost Town", an artifical reef that has been submerged for 15 years now and really does not sport much coral growth or fish.  It was a perfect place to remove and then re-attached our stage bottles.  The boys did not see much of the sand wildlife.

More things the boys did not see…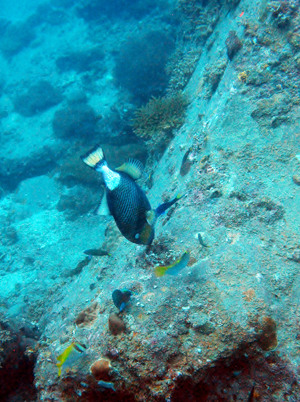 The next day we did two boat dives and another shore dive.
The boat dives were rough due to the wind and waves, the first dive at Fan Canyon was good and the boys got through all the skills.
Karen, Victoria and Toby had a great dive at Fan Canyon too and saw blue spotted ribbon tails, cuttlefish, emperors, rainbow runners, nudis, nudi eggs, flowering coral, clown fish and of course my favourite an enormous trigger fish.
Highlights of Fan Canyon…


The second dive was at Soyak, but the captain dropped us a long way from the island and the current was ripping, so I deployed my SMB and decided to try again.  It is not easy finning against a current with three tanks.  During the drift I noticed a trigger fish (arch enemy number 1) sleeping on a rock protected by from the current.  Revenge was my first thought, I wanted to sneak up behind it and bite it and see if it liked it a much a I do, unfortunately the damn current did not allow me to get close enough.
Once back in again with no current we did skills, skills and skills, I am sure Paul and Phillip can do valve drills in their sleep.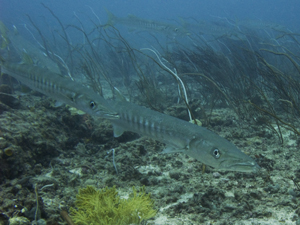 The three recreational stooges, reported sightings of giant barracuda, sweet lips, cuttlefish, lion fish, snake eels, pufferfish and many other fish at Soyak.  Although there appeared to be some damage to alot of the coral, possibly due to a storm.
Our last dive of the trip was back at the jetty.  Yes! To practice some more skills in a little to no-current environment. And yes another opportunity for Karen to practice her photography.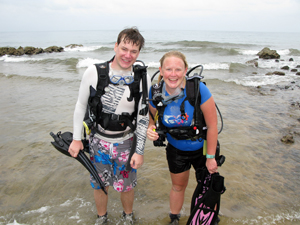 Victoria and Toby did an early morning dive on Wednesday, prior to our departure.  And as you can see, they fully enjoyed themselves.
Paul and Phillip competed their TDI courses and signed up immediately for TDI Decompression Procedures.  Keep an eye out for that report.
Gary
Additional photos may be viewed on our Facebook page here – Midweek overland to Tioman | 12 – 14 March 2012, TDI Tech Courses