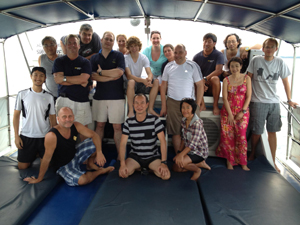 Easter long weekend dive trip on the MV Seaborne had been planned a long time back.  The trip was on my website about 6 months ago and it filled pretty quickly.
This weekend we had Suzanne, Davy, Tobias, Scott, Jo, Bianca, Ken, Jane, Shan, Colin, Wee, Charles, Adam and JB.  Andy and Sara were my two Dive Masters for the weekend.  We left Singapore's Tanah Merah Ferry Terminal  (TMFT) Thursday night and returned Sunday night.
Our first dive of the long weekend was at Bahara Rock or Lighthouse Rock just south of Tioman.  I have not dived Bahara for at least a year.  There was some coral damage, which could have been from the monsoon, but most likely from human damage as there was some thick rope stretching out to the deeper water.  I could not investigate because I was diving with Ken who was doing his PADI Open Water course with me.  His whole family dives and he is the last one to learn, clearly a natural talent in his family.  He was awesome right from the start.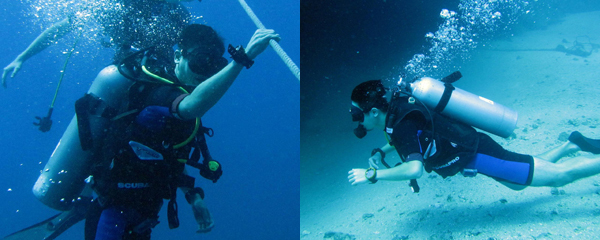 There were a lot of fish at Bahara Rock, particularly around this one area where there were some large bolders covered in soft corals.  Rainbow runners, damsels, snapper were everywhere and of course one huge trigger fish that did not see us.  I wrote on my wet notes and showed Ken, " Trigger Fish, they bite, stay clear."  Ken nodded his head and we continued our dive.  Just around the corner was a bunch of batfish all getting cleaned.
During the dive I could see flashes and kept looking around for the camera, but it turned out to be lightning.  I could also see that it was raining heavily.  When we surfaced we were greeted by the pouring rain.  Thankfully it stopped on our way to Tekek, Tioman Island, Malaysia to clear immigration.
Dive two was at Labas and it was fantastic.  There was a massive school of fusiliers, several thousand of them.  Ken pulled my fin in excitment to point out 6 dog face puffer fish.  We were followed the whole dive by a trigger fish, but it kept its distance.  I was so impressed with Ken's dive skills that I took him through a couple of the shallow swim throughs. I could see him smiling ear to ear.  We saw at least 5 blue spotted rays and thousands of other fish.  World Class dive site.

We hid behind Labas as the rain pelted down again, thankfully it passed just after lunch as we headed to our next dive at Tiger Reef.
Tiger Reef was also awesome.  There were nudi's everywhere you looked.  At one spot on the sand, I pointed out 6 purple nudi's to Ken.  We must have see at least 5 different types.  More skills for Ken and then we headed to our safety stop.
Dive four was at RM Sipadan, the new wreck that was sunk on the 29th March 2012,  just of Tekek.  Is is right next to the Swarwdee Wrecks.  When I first jumped in to check if it was the right wreck, the viz was good at least 20 meters and I could see the wreck from the surface.  Then once all the divers were on it, the viz declined, but not too much.  I took Charles on this dive, Ken sat it out due to the depth and course requirements.  Charles was doing his SDI Solo Diver Course and SDI Deep Speciality.

Charles and I swam inside the wreck from stern to bow from the engine room.  Before it was sunk they removed the engines, props and just about everything else.  However they left the toilet.  I tied my line to the bow and swam out to where I previously saw one of the other wrecks, sure enough we found it, had a quick look and returned to the Sipadan.  You can see that the Sipadan had landed bow first when it sunk.  It has a huge pile of sand on the bow, that it dug up when it landed on the seabed.  The stern is off the bottom slightly, allowing a good view of where the props used to be.
They also left a glass window between two of the cabins.  Andy managed to located this with his head.  He was trying to swim through the hatch which turned out to be a window.  I wish I was there to see that, it would have been a good laugh.
The fifth dive was at Ringis.  This night dive was a perfect time to do some "pet tricks" with Charles for his courses.  Suzanne has named the skills on courses as "pet tricks".  We descended down the mooring line to the sand.  I tied my line to the concrete block and we swam out and around a bit.  We saw a scorpion fish that was walking on the sand and a load of crabs.  The "pet tricks" for Charles included a no mask swim, swimming with only one fin and a solo dive.  I gave Charles the line and told him to swim out 5 meters and do one full circle. I turned off my light and watched him.  Good solo practice, 20m in the dark swimming with no reference.  Perfect. I almost made him do it again without a mask.
Friday night's dinner was a most excellent steam boat.  Everyone really enjoyed it.  I did too and forgot to take a photo for this report.  Oops.
Saturday morning we arrived at Kuantan wreck.  Sara and I did the tie off dive around 730am.  The boys dropped a shot line in but there was no need to use it, I could see the wreck from the surface. There was a bit of a current, but nothing unmanageable.  I swam to the stern and tied off on the super structure.  I then noticed this massive cod and pointed it out to Sara.  We watched it for a few minutes and then surfaced.

We did two dives on the Kuantan wreck.  Both were just perfect with excellent viz and no current on the wreck.  There were free swimming white eyed moral eels just about everywhere.  I saw a fish trap out on the sand and swam out to cut it open to let the fish out.  This is a very popular fishing spot.  There must have been at least 5 small anchors that had been snagged on the wreck and left behind.
The wreck was covered in fish including a couple of huge barracuda and a school of giant trevally.  One GT had a hook in its mouth with about 3 meters of fishing line attached.  I managed to grab hold of the line hoping to help the poor guy, but I could not hold onto the line, it just slipped right through my hand when the fish felt the tension.  JB had a big smile on his face because he managed to get inside and swim through most of the wreck with Sara following.
Suzanne was doing her rEvo CCR course with Davy and they spent most of the two dives kneeling under the prop doing "pet tricks".  I could here Davy yelling "boom" several times during the dive.

The Kuantan Wreck was just a "very very happy" dive.  It's small with lots of fish life and excellent viz and it is well worth the effort and time to go there.  It was the highlight of the long weekend.  Well that and Andy swimming into a glass window.
As we approached the Verella Wreck I could see at least 50 bouys marking fish traps. There were so many it was difficult to manover the boat over the wreck. Once tied on we jumped in and enjoyed two great dives.

Verella is broken up a bit, but you can still see it was a huge ship.  The machine guns are still intact on top of the rooms that have not yet collapsed.  The stern is pretty much ok and the rudder is visible, part of the mid section is also intact and housed a lot of fish.  A school of barracuda and trevally were swimming around the wreck, there were also a lot of Nudi's, snapper and groupers.  I can see why there were so many fishing traps around this wreck.  It has a lot of large fish.
Saturday night we enjoyed the famous Seaborne BBQ and later that night headed to Pulau Aur for our last two dives of the long weekend.
We dived Rayners Rock and Pulau Pinang Sunday morning and both were pretty nice.  The hump heads are still at Rayners Rock. I took Charles to 40 metres as part of his SDI Deep Speciality at Pinang and there was not much to see other than rocks and sand.  Our dive computers got down to two minutes of no decompression limit (NDL), so we headed up to 25 metres for 5 minutes and then up to 6 metres for a long 15 minute safety stop.  The viz at Pinang was a bit milky and there were also cold and warm thermoclines.
With everyone back on board we set course for Singapore early Sunday afternoon.
Thanks to Scott Clegg and Charles Page for the use of your photos.
And congratulations to Ken on completing his PADI Open Water Course, Charles for completing his SDI Solo Diver and SDI Deep Speciality and Suzanne for completing her rEvo CCR course.
Gary
Additional photos may be viewed on our Facebook page here – 5 to 8 April, 2012 – PADI Open Water, SDI Solo & CCR Students