The alarm went off at 6am, the first of many early starts for the coming week of diving.  I met up with the group at 7.15am at Terminal 2, Changi Airport.   Joining me this week was Tobias (third trip in a row), Joan, Natalia, Hongbo and Jochum.  Suzanne had to cancel due to urgent surgery on her ageing shoulder.
We all boarded the Silk Air flight destined for Cebu, Philippines.  We were not looking forward to the long journey to get to Malapascua – a four hour flight followed by a four hour bus ride and a boat ride. ETA Malapascua was 5-6pm.  After watching Mr Bean and Just for Laughs, I was hungry and bored, so I started to write this.  Still hungry, no food yet.
We were looking forward to the chance encounter with some Thresher sharks, according to the dive resort our timing was just about perfect and the Threshers had been spotted already from a couple of days ago.  Fingers crossed we would get to see them.  We had 9 dives planned over 3 days.
Finally some food!  Well it resembled food, it was supposed to be a cheese omelette.  Why is economy food so average? I am sure they do it on purpose.  Jokes aside it was edible.  Time to settle in for a nana nap now.
We arrived at Cebu airport and cleared immigration in about 3 minutes, which was a miracle.  We boarded the bus for the four hour journey to Malapascua.  We arrived around 5.30pm, had dinner and drinks and went to bed early to prepare for the 4.20am wake up to go dive with Thresher sharks.
The alarm went off, but I was already wide awake from 3.30am, I woke up Hongbo and Jochum and went to the dive shop to make sure all our gear was loaded on the boat.  Tobias was already there setting up his CCR.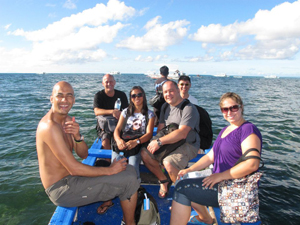 We splashed in at about 6am and were not disappointed.  We saw about 4 Threshers.  There is not much else there besides sand and a great big drop off, which would be cool to do a deep tech dive and greet the sharks as they come up to be cleaned.  Maybe a possibility for my next visit?
The rest of the day was diving around Malapascua at a couple of other sites.  These sites had very little fish, with just the odd rainbow runner and clown fish.  There was colourful soft coral everywhere.  I was surprised at the quality of macro subjects.  Ghost pipe fish, spider crabs and mantis shrimps.  One site was similar to the house reef at Manado with pipe fish and dragonets.  There was green sea grass everywhere, which made me think about dugongs, but sadly there were not around and have not been around for some years now.

Dinner, drinks and off to bed early again.
The alarm sounded at 4.20am again and round two began, this time we splashed in around 6.15am at a different spot for Threshers.  6.15am swimming against a current with no breakfast is not a good thing to experience, but all that was quickly forgotten when we spotted the first of 6 Thresher sharks.  We saw 3 at one part of the drop off, one guy came in really close and I managed to get a half decent video.  If you plan to come to Malapascua to dive with these awesome sharks, you will need to remove your strobes.  No lights or flashes are allowed for the shark dives.  This makes it tough to get a decent video.

The next two dives were at Gato island, again fishless, other than a small school of barracuda, mackerel and some rainbow runners.  The soft coral was plentliful and colourful.  The second dive was through the "cave". It's more like a long swim through at Labas, Tioman, but anyway it was fun.  The cave had one small white tip swimming around inside.  Another white tip was sound asleep under a rock outside the cave.  Both dives had plenty of macro and some cuttlefish.

On day three I saw a Mantra Ray and one Thresher during the early morning dive.  Only one shark because according to the locals the Manta has priority at the cleaning stations and the Sharks will not come to be cleaned until the Mantas have gone.  We waited at the station for at least twenty minutes, but no more sharks, so I took a video of some clown fish to pass the boredom.

I managed to convince everyone to dive the wreck, which was not hard.  Dona Marilyn sank in the 80's in a typhoon on its way from Cebu to Malapascua.  It was a great dive.  Nice mid size wreck at around 100 meters long.  Hongbo and I managed to loose the group and had the wreck to ourselves, the guide was not so impressed with me.  The second dive was back at Gato Island, through the cave again.  No sharks this time, just a few squid, cuttle fish and a juvinile sweatlip and a couple of pipefish.

On the last dive whilst the guide was taking one diver to the surface I found a coconut and decided it was a good idea to play underwater basketball with Hongbo, Tobias and Jochum.  We tossed the coconut to each other a few times, but it did not bounce very well.  Once we were bored with that, I decided to fill the coconut with air. It shot up and we all ignored it.  I looked at Tobias and the coconut was zeroing in on his head.  I swam over like crazy and managed to just push it away from his head and his camera, which to me, looks like it needs an army to operate.

Gear washed, now waiting to dry and head home in the morning.  Sad to leave, but happy to be heading home for a couple of days before heading to Malaysia for the weekend.
Malaspascua has something for everyone.  Sharks to spider crabs.  But there is a real shortage of everything else in between.  There are very few reef fish and very few pelagics. On one dive we heard the explosions from dynamite fishing, hence the lack of reef fish and now dugongs. Sad. Malapascua would be an amazing place, unfortunately it would be nothing without the Threshers.  Don't get me wrong, it is still nice diving, I'm just too spoilt and was expecting more.  It is well worth a visit to see the Threshers, Mantas and Devil Rays, the other sites are just something to do in between shark dives.
Cheers – Gary
Underwater video and photos taken by Gary
Additional photos may be viewed on our Facebook page here – 27 April to 1 May, 2012 – Malapascua, recreational diving