This weekend we had calm seas, which was nice for a change. We were on The Ark which is a live-on-board boat that departs from Singapore's Tanah Merah Ferry Terminal Friday night and returns Sunday night.  I was conducting Advanced Open Water Courses on this trip.
Although I must say, we did experience bad viz at Tioman, Malaysia all weekend.  It was still enjoyable. In fact, I thought we could have been at Hantu a few times.  Hantu is a local island off Singapore, which has a reputation for bad green brackish viz.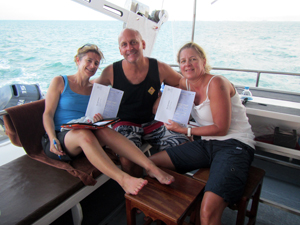 GS-DIVING students all completed both PADI Advanced Open Water Diver and SDI Advanced Adventure Diver Courses this weekend.
Congrats to Ann, Dianne, Ben and Nigel.
Sorry boys I didn't take your photo, but I did take the rest.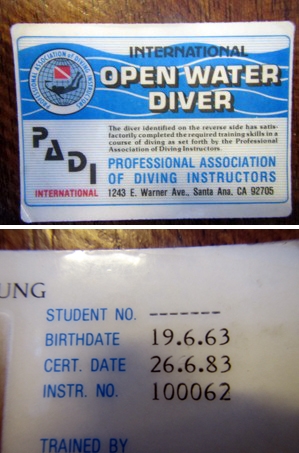 I have to share with you Dianne's PADI Dive Certification Card.  She was doing PADI Advanced Open Water Diver Course with me after many years of diving and after some 200 odd dives. She was certified back in 1983 in the USA.
Her card was the orginal cardboard type card with a passport type photo adhered to the cardboard and the instructor number was the 62nd instructor certified by PADI.  In fact she wasn't even given a certification number, so I had to do some checking to ensure its authenticity.
Dianne was here in Singapore between business trips and currently lives in Switzerland.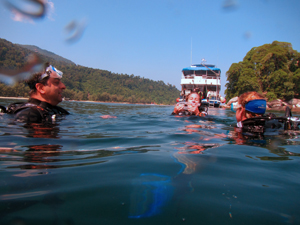 In any case,  we spent Saturday diving around Tioman.
First dive was Bahara Rock, second dive at Renggis, third dive at Chebeh , fourth dive at Tiger Reef followed by a sunset night dive at Labas.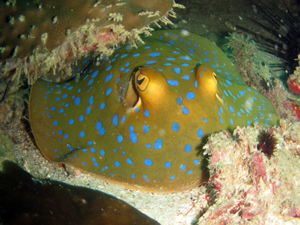 Bahara was our drift dive and we drifted fast.  The Ark anchored up current of Bahra Lighthouse and we all jumped in and went down the line. 5 of us started but I ended with 4. Sunil lost us at the down line and re-joined the boat.  We drifted a long way until we reached the other side of Bahra Reef where we dropped down over the side to seek protection from the current.  The viz was pretty bad, but will still managed to see schooling trevally, puffer fish and some blue spotted ribbontail rays.
Renggis also had a strong current and we drifted until we reached the monkeys bars.  When we got there it was very busy with all types of courses going on, there were divers everywhere.  We swam a bit further down and all 5 students completed the navigation exercises.  Ann was very impressed with herself and the fact she made it back to the same starting point during her square.  We did not see too much on this dive, we spent most of the time doing skills.
Chebeh was the best spot for the deep dive.  We headed down the line and assembled at the bottom around 15m, the current was not strong and we dropped off the line and swam down to 29 metres.  I showed the 5 students the colour change effect at depth and made them do some maths to see if they were narced. 3 got it right and the other 2 not so right.  We spent 10 minutes around 29 metres, then another 10 minutes around 25 metres before heading up to shallow water for another 20 minutes, safety stop then onto the boat.  The viz again was bad but everyone enjoyed the colours that Chebeh had to offer.
Tiger Reef was a fun dive and we all enjoyed ourselves with sightings of puffer fish, white eyed morays, colourful Nudi's, including a pink one for the girls and some blue spotted ribbontail rays.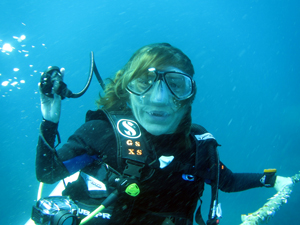 Despite the nice close up marine life, the viz at Tiger Reef was the worst I have seen in Malaysia, during the 2012 dive season.
But I did have fun playing with the settings on my new camera.  The fish eye effect was pretty cool.  Dianne has a good sense of humour!  Thanks for letting me use your photo in this report.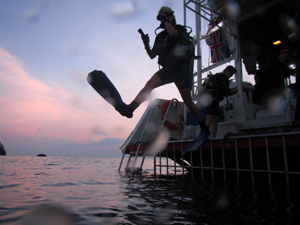 The sunset night dive was at Labas.
No current and loads of fish made it an excellent night dive. Blue spotted rays, squid, crabs, shrimps and sleeping parrot fish.  I even managed to meet some friends during this dive, who were on another dive boat in the same area.
Around 10pm that night we got word of 6 lost divers, last seen at Chebeh in the early afternoon.  So we went and helped search until we had to leave for our next destination.   Luckily they were found the next morning by a tug boat, some 20 nautical miles north of Tulai Island near Pulau Tioman.  These divers were not from any live-on-board boats that departed from Singapore that weekend.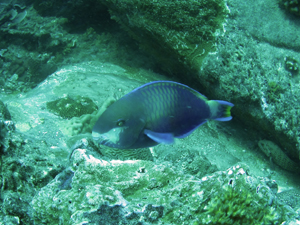 We arrived at Aur around 7.30am and did two dives.
The viz was good and Pinnacle Two was fantastic.
Not a great number of fish, but still a good dive.
I guess during the weekend, Sunday mood's was somewhat depressing, as we all came to terms with some of the dangers in our sport, especially with lost divers.  We weren't aware they were found until we had reached mobile/internet range about 2 hours out of Singapore.  So you could imagine our concern for those land based divers from Malaysia, Singapore and China during the return journey.
Cheers, Gary.
Additional photos may be viewed on our Facebook page here – 22 to 24 June, 2012 – The Ark with Advanced Open Water Students