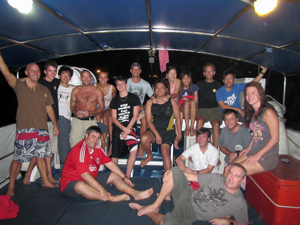 Ebony was late arriving at Tanah Merah Ferry Terminal (TMFT), Singapore so the rest of us that arrived on time had to wait 45 minutes.
When she arrived she explained that she got in the cab and fell asleep.  Her taxi bill from Sentosa to TMFT was SGD$60.00. I suspect the driver took her to TMFT via Woodlands.
Anyway, we got underway and sped up to Lima Channel to make up for lost time, once round the bend we slowed down a bit.  The seas were a little rough, but not too bad.  Dinner, some drinks and lots of laughs and then off to bed.
My bed for the night was on the saloon floor right next to the bench where the crew cook.  Big Andy stole the comfy bench.  About 3 am I was woken by this almighty crash  to see the sliding saloon door smashed to pieces right next to my head.  It missed me by about 10cm.  There was glass everywhere and I could not move.  Eventually I got out and went to sleep upstairs and left it to the boys to sort out the mess.  Andy rolled over and went back to sleep.  The door had been giving us trouble all night.  It would not slide, slide too much and so on.  I guess it was on its way out, had a trantrum and so came of its tracks.  The boys made a temporary door for the weekend.
We arrived at Bahara Rock, south of Tioman, Malaysia around 6am, dropped anchor and shut down the engines for an extra hours sleep.  Bonus.
Once I dragged myself out of bed I noticed that the conditions looked good, a bit overcast but ok.  Armand, GS-Diving's intern and Dive Master Trainee, woke everyone up and I completed the dive briefing.
Andy was guiding Hans, Richard, Brett and Jana.  Ian was guiding HQ, Jeremy and James.  Armand and his brother Gaspard where jumping between the two groups learning skills on how to be a Dive Master.  I was conducting a PADI Open Water Diver Course and I had Ebony, Joey, Tom and Byron.
I was very happy to see there was little, to no current at Bahara Rock. My students did extremely well with all the skills and pretty much had their buoyancy 95% right.  These guys made my weekend easy. We saw some nice Nudi's, butterfly fish, rabbit fish and one huge hump head parrot fish.  This guy did not mind us being around at all and I got very close.  Sorry no camera on this dive.
Next dive, after dropping our passports off at Tioman for immigration purposes, was at Renggis. We were all hoping the see the resident black tip, but no one did.  But Armand group spotted a turtle.  The fish life was great and the viz was far better than last weekend, not fantastic but at least 10-12m.
My students completed all the skills including the fin pivot, which really improved their buoyancy even further.  We saw a white eyed moray, pufferfish and thousands of small fish.  Nemos were everywhere.
At Renggis we went up over the reef to a shallow area where there is a line I use for ascent skills. When I got there, the rope was broken.  No drama. I deployed my SMB and we completed the skills.
Back on the boat the passports were collected and we had an awesome lunch and then headed to the KM Sipadan.  I dived this wreck in early April, a week after it sank. See my Trip Report dated 5-8 April, 2012 for details of this new wreck.

This dive my students had to sit it out (their maximum depth was 18m as PADI Open Water Students). Armand guided his brother and I around the wreck.  I was happily surprised to see the wreck is now covered in millions of small fish, mostly barracuda.  You could hardly see the wreck because of the fish.

The viz was ok at about 8m.  I told Andy about the other wrecks out in front of the Sipadan bow and he had a look around the Sipadan and then took his group out the other two bigger wrecks.  Armand showed me around and I saw a massive golden snapper hanging around under the stern where the props used to be.  Snap snap.. I hope the pictures turned out in this green water….

The Sipadan is 18 to 30m deep, so it was a short 30 minutes dive and we all enjoyed the Durian ice cream after the dive, well most people did.
We headed out to Labas to have some fun in the swim throughs and to do the night dive there too.  My students were well rested and ready for their third dive of the day.
I briefed my students and we jumped in first this time round.  We did an awesome 55 minute dive with 4 excellent swim throughs.  Their eyes were wide open like kids at a candy store when we entered the first cavern. The viz was not so good at Labas, inside the swim throughs it was ok, for some reason there was a lot of suspended particles in the water.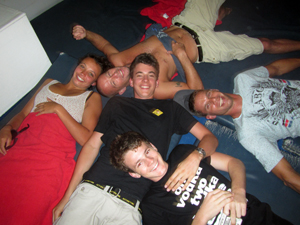 No night dive for me and my students.  Armand was so keen about the upcoming BBQ he asked if he could do the night dive early.  I asked him in return, how can you do a "night" dive early, it starts when it's dark.
Armand was the dive guide for the night divers and Andy was following behind.  Armand did a good job for his first guided night dive, he even brought the group back to the boat.  They saw the usual stuff, crabs, shrimps and sleeping fish.
Once again the BBQ was awesome on the Seaborne and for the second time, we finished everything besides a few sausages that we ended up using to throw at the few people that decided to go for a midnight swim.
7.20am Sunday we jumped in at Jahat. The water was green and murky and there was a real lack of fish.  My students completed all their skills, so Armand guided the rest of the dive with me closely behind.  Again he did a great job and returned back to the same place we started. All we saw of interest was a puffer fish and a blue spotted ray.  It made sense considering the amount of fishing boats I saw just before we jumped in.
Safety stop done and we got out and headed for Jack Rock.  My Trigger Fish Trauma (TFT) started to appear even before we got there. I was wondering whether "Cujo" the Killer Trigger Fish was going to be there and be angry as always.  It turns out there was no trigger fish at Jack Rock, just decent viz and loads of fish.  My now certified PADI Open Water Divers enjoyed their first leisure dive and dived without a snorkel.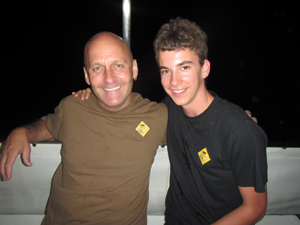 The weekend was good all round, despite the rough seas Friday night and Sunday afternoon on the way home. However, the conditions underwater were fantastic, no to very little current and what current there was, just helped us drift slowly along the dives sites.
Congratulations to Ebony, Bryon, John and Joey for passing the PADI Open Water Diver Course.
Cheers – Gary
Additional photos may be viewed on our Facebook page here – 29 June to 1 July, 2012 – MV Seaborne – PADI Open Water & DMT