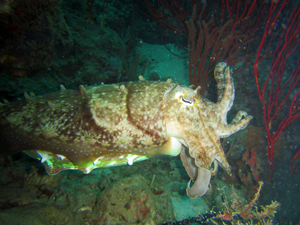 Rocking Riau . . . What an incredible weekend!  We saw so many cool things I have not seen at Riau before and the viz was also incredible, up to at least 10-15 metres. The best I have seen in this area.  We saw turtles, marble ray, sea snakes, cuttlefish, bamboo sharks, puffer fish, a variety of nudis and so much colorful soft and hard coral, red, green, orange. You name it, we saw it.
For the first time, in a long time, everyone arrived at Singapore's Tanah Merah Ferry Terminal (TMFT) on time or even early. We left early Friday night on a live on board boat called the MV Seaborne and arrived at our first dive site around 3 am after clearing immigration at Nongsa Marina, Indonesia.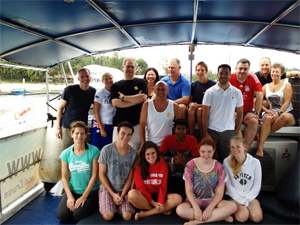 On the way south between Batam and Bintan, the weather was great and we all sat on the top of the Seaborne and watched the passing ships and stars in the sky.  The further south we got the less lights we saw on land.   We enjoyed flat calms seas all the way to the first dive site.  Everyone enjoyed an excellent night's sleep, well everyone except for Anne and Anna, who did not know that the air on was set on " freezing" until they looked at the remote the next morning.
Everyone starting waking up at around 6-7am Saturday morning, only to be greeted by dark clouds.  Around 7.45am it started to rain and looked like it was not going to stop for a while.
Shirley, Dean and Gena are all teachers at an International School and they brought 5 students along with them.  Shabeeu, Cecille, Richard, Natalie and Sinead. This weekend, I had Big Andy guiding Cecile, Shabeeu, Natalia, James, Brent and Shirley.  Glenn was guiding Dean, Gena, Richard and Sinead.  I was conducting TDI Intro To Tech with Charles.  Suzanne and Anna followed along.  Anne, was suffering from a head cold and could not dive.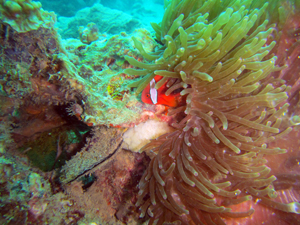 We did the first dive at Seafan Alley and the viz was pretty good for Riau, around 6-8 metres.  The seafans are still there in the thousands and not one pygmy seahorse in sight.  Some blue spotted rays and some parrot fish were also around, along with thousands of clown fish.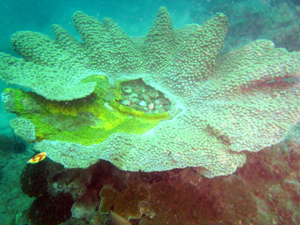 Glenn's group found some glass shrimps.  We started the dive in light rain and we finished it 50 minutes later in heavy rain.  The clouds made it a bit dark at 20 metres where most of the sea fans were.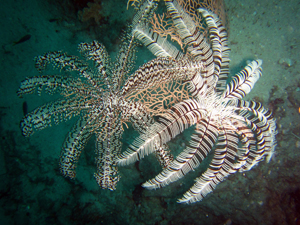 The second dive was awesome. The viz was better at 10 plus metres at a dive site I had previously named Mini Petong.  Glenn's group even saw a turtle.  The site was covered in soft and hard coral and loads of small groupers.  I tried and tried to get a photo of the grouper, but they kept swimming off as I got closer, so I took some photos of the feather stars and coral, they don't move much.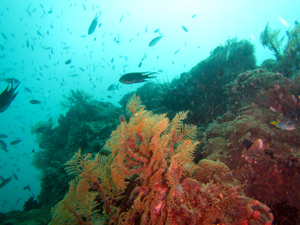 I decided to try a new reef for the third dive. I have named it Beach Reef because you could see the reef running all the way along this beautiful sandy beach on one of the nearby islands.  My group went to the right and we swam along at about 15 meters and the viz was clear again at 10 plus metres.  Five minutes into the dive we saw a turtle. "Wow, never seen one here before," is what I thought.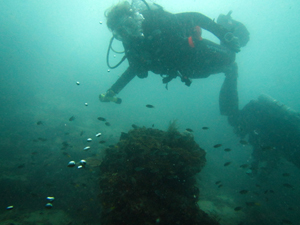 We swam along for 50 minutes, taking photos and enjoying the nudis, bait fish, parrot fish and groupers.  At one point of the dive I saw a rope, then noticed there was a small anchor attached. I looked up and saw a small fishing boat.  I pointed the anchor out to Anne, then the fisherman started to pull up the anchor and it missed Charles by a metre or two.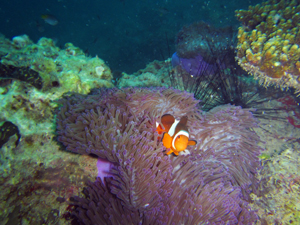 We were heading out to Soft Coral Round-about when the navy boys came for a visit to make sure we were cleared by immigration to be diving.  I guess they were waiting for the rain to stop before heading out to see us.  We anchored nearby Soft Coral Round-about and waited for our tanks to be filled for the next adventure.
Soft Coral Round-about was just fantastic. Soft coral everywhere, loads of fish, trevally, rabbit fish and a big squid. Everyone really enjoyed the dive.  I found an anemone full of glass shrimp and took a few pictures.
Glenn took the 6 night divers for their dive but it ended abruptly due to the current. Glenn surfaced with two of his divers and the other four continued to dive. We watched as they drifted further are further away, so I decided to recall them for their own safety.  Suzanne went and tapped a weight on the ladder and thankfully they heard the recall and surfaced after a safety stop.
We managed to finish the BBQ on Saturday night and I have worked out that the only time we eat all the BBQ is when Big Andy and Glenn are onboard.  During the BBQ a big sea snake was swimming around the back of the boat. It must have came up to the surface to see what we were doing about 5 times.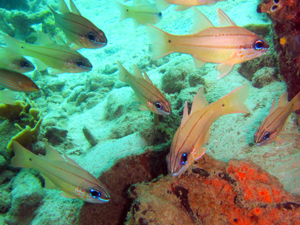 Sunday morning we did two more dives at Parrot Fish Point.  I remember when I named this site and I said, I bet the next time we dive it there will be no more parrot fish.  I was right.  Although I must say, we did not really get to the point due to the current and so we turned around and dived the top end of Seafan Alley.  Big Andy's group saw a sea snake, a smaller one from the one that visited us during the BBQ.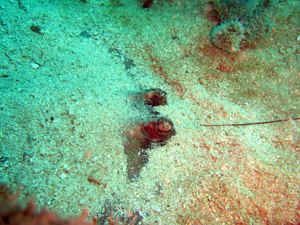 Last dive of the weekend was back at Mini Petong and it was fantastic. Sting rays hiding in the sand, flat worms, puffer fish, nudi's and Andy saw a huge marble ray hiding under a rock, another fitting end to a weekend.
Congratulations to Charles for completing his TDI Intro To Tech Course.  He took to the twin tanks really well and was a natural.  Suzanne completed her 400th dive, Anne her 50th and Dean, well Dean almost got there with his 99th dive on the weekend.
Glenda's tip – Do log your dives, as it is always fun to know your milestones!
Cheers, Gary. And I hope you like my photos too!