GS-Diving had 10 new PADI Open Water students waiting to take the plunge at our local diving site, Hantu just a short 30 minute boat ride from Singapore. They were from an International School not far from the East Coast, Singapore.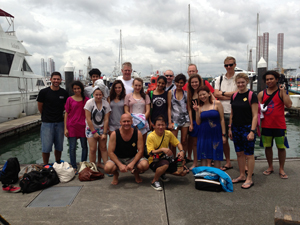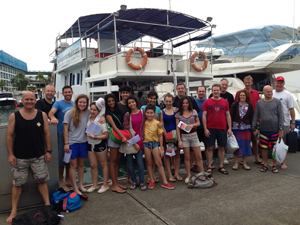 In addition to those newbies, we had 5 seasoned divers looking for a challenge on both Saturday morning and Sunday morning.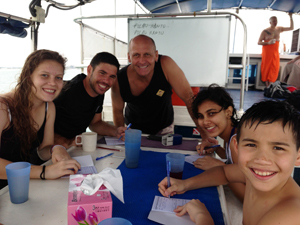 So with 3 PADI Instructors (Gary, Phil and Glenn), 1 Dive Master (Georgie) and 1 French PADI Dive Master Trainee (Pierre) our weekend morning dives received an average viz of to 2-3 metres.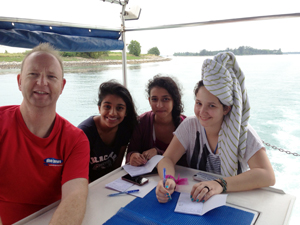 Despite these less than ideal conditions, say compared to Tioman, Malaysia (Yes! The South China Sea dive season is due to open in the next few weeks), we also encountered sightings of a turtle, two harlequin shrimp and at least 20 nudi's, some laying eggs and other making more.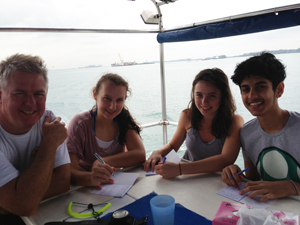 We saw fish, soft and hard coral and not too many "sand storms".
Instructor Gary believes that his  "Teacher Gary" tone of voice in the school olypmic sized swimming pool ensured that no one dared stand vertically in the sand and everyone was very conscious of their horizontal position in the water. Moving arms was not an option and only finning was permitted.
Gary believes that at this point in time we need to add a "Glenda's Tip":-
Please ensure that as a new open water diver you are conscious of other divers around you. They don't appreciate "sand storms" and this can easily be avoided if you inflate your BCD. Remember "swimming" = a horizontal position in the water. Please use your fins and enjoy the scenery!
Congratulations to our new PADI Open Water students. And remember if you can dive at Hantu, you can dive anywhere!
Cheers, Gary Savins
To view more photos from the trip, please visit our Facebook page – click here to view