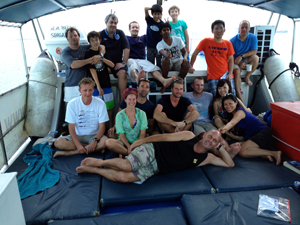 We headed off Friday night from Singapore's Tanah Merah Ferry Terminal with 17 divers on the MV Seaborne around 7pm to our destination Tioman, Malaysia.
All was calm until about 1.30am.  The wind picked up and so did the waves of up to 3 metres high.  We had to slow down and cruise at 4-5 knots, which is about half the speed the Seaborne normally does.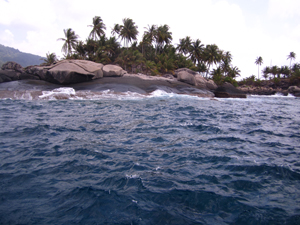 So we changed course to Aur knowing that we would never make Tioman in time for the first dive at 8am.  We bounced around until at 6.30am when we neared Aur.  Not the most comfortable night onboard.
This was Lang in the morning, so we decided to try another dive site.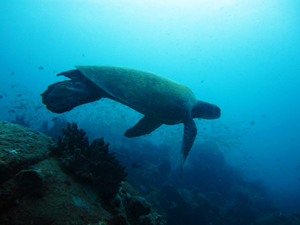 Pulau Aur was also experiencing rough seas, so we could only dive in the bay between Aur and Dayang for the first two dives.
We saw turtles, cuttlefish and loads of fish.
The coral was ok, but a bit broken up.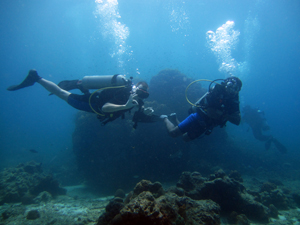 The wind dropped and so did the waves around lunch time, so we went and dived Pulau Lang. The dive site was just fantastic with thousands of fish, another turtle, more cuttlefish and the coral was all intact and looking good.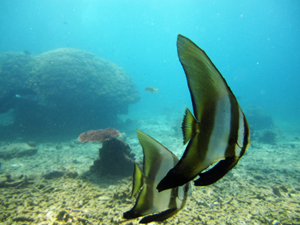 Bad weather over and we started to enjoy the diving around Aur. Big Andy was claiming to be the "Turtle King" with sightings every dive. Craig was busy pointing out a huge moray eel, but keeping his distance at the same time. A few bat fish swam by, I guess they have to get used to divers again.
I was pointing out a turtle to my group when a school of 10 giant trevally crossed between us and the turtle.  Very cool!  After this I pointed out a trigger fish and changed direction, everyone followed except Ailiya. She went to take a closer look.  Luckily the trigger only attacked her pink fins.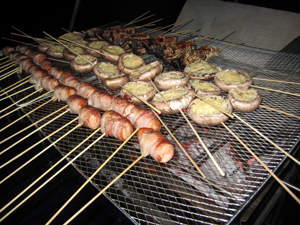 The night dive was at Divers Lodge House Reef and it was pretty good. It was my first night dive since last October.  We saw 2 barramundi cod, schools of rabbit fish and some trevally.
And the BBQ for dinner was fantastic as ever. Everyone was happy to spend Saturday night in the calm bay and catch up on lost sleep from Friday night.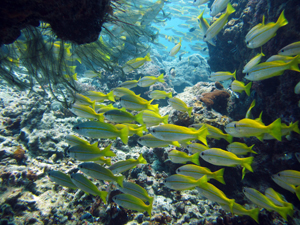 Lang was so good we dived it again Sunday morning.  No one was disappointed.
More turtles and cuttlefish, big butterfly fish and thousands of other fish including fusiliers.
After Lang we headed to Jack Rock for the final dive of the weekend.  Wow what a dive! So much soft coral of every colour, huge barracuda, huge snapper, huge grouper, huge puffer and the list goes on.  There was also an array of nudis and pipe fish.  Just incredible even in the 6-8 m viz.
A great weekend was had by all.  Andy was guiding Yvonne, Dean, Craig and Rex.  GS-Diving Dive Master Trainee – Pierre was guiding Murille, Alex and Clement.  Ben, James and Shabeeu were diving together or sometimes following a group.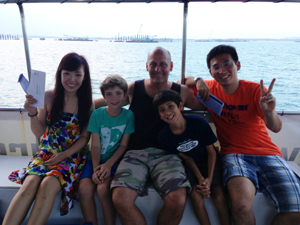 I was conducting SDI Junior Open Water Diver Course with Rohan, Dodo and PADI Open Water Diver Course with Ailiya and Goupeng.  Shabeu and James also did their PADI Diver Propulsion Vehicle (DPV) Speciality Courses.
Congratulations to the 4 newly certified divers.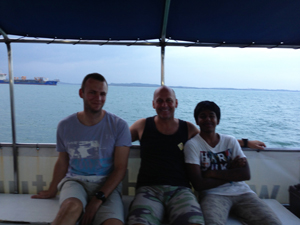 Also congratulations to Shabeeu and James for completing their DPV Speciality Courses and not losing one of my toys. Well, I jokingly instructed them that it was ok to drop Big Andy's DPV if they got into trouble, but it was certainly not ok to drop mine.
Once Shabeeu receives his certification number for the DPV Speciality Course I will be able to certify him as a PADI Master SCUBA Diver. Congratulations to Shabeeu!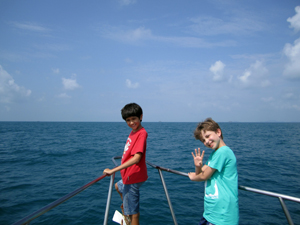 Everyone was also happy to see the calm weather on Sunday for the trip home and we all relaxed and enjoyed the view.
Cheers, Gary.  Thanks Yvonne for the use of some of your photos.
To view more photos from the trip, please visit our GS-Diving Facebook page – click here to view