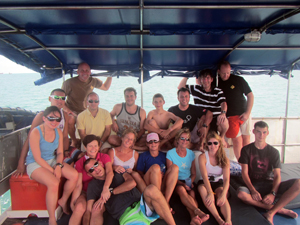 Another Friday night at Singapore's Tanah Merah Ferry Terminal (TMFT) waiting on 14 guests to arrive.
Everyone arrived on time, but Shabeeu forgot his passport so we unfortunately left without him.
We left on time and had dinner and a few beverages. At around 11.30pm Phil and I were having a chat and finishing our last drinks and were about to go to bed when the boat stopped and engines were shut down.  I looked out the back of the boat to see some thick nylon line dragging behind us.
So I donned my speedos and dive gear (very sexy look) and jumped into the darkness with a torch and a hacksaw.  The rope was tightly wrapped around the port side propeller. I managed to cut 90% off and then the hacksaw broke.  I surfaced and was given a knife that was not so sharp and managed to cut enough away to ensure that the propeller worked. But I had to leave some that was wrapped around the shaft.  It had formed a solid piece from the heat when rubbing on the props. Melted plastic at its best.  This exercise took about 40 minutes of bobbing around in the dark.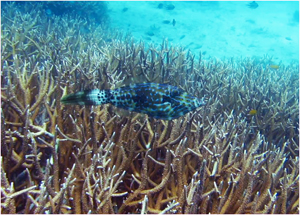 Anyway,  lets talk diving.
We completed 5 dives around Tioman, Malaysia on Saturday. Renggis, Seafan Alley, Tiger, Labas and a night dive at Labas.
Then on Sunday we did two dives at Dolly Parton (aka Pamela Anderson) and Jack Rock.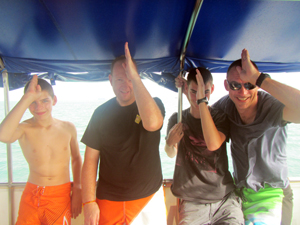 GS-Diving Instructor, Phil was conducting PADI Open Water with Rainer and his two sons, Toby and Alex.
Carol their mum was a non diver, but enjoyed snorkelling all weekend.
Phil managed to show the three students 2 black tip reef sharks on their very first dive.
The group completed all the skills and are excellent divers with good buoyancy. Phil even took them though the swim through at Labas. But only after demonstrating their skills at the Renggis Monkey Bars.

I was conducting PADI Rescue Diver with Canice and Andy, who are great divers with 400 odd dives, both with amazing buoyancy and air consumption.  We did 5 dives all around 60 minutes including four rescue scenarios.  I also had Hans and Richard following me around.
GS-Diving PADI Dive Master, Georgie was guiding Dean, Gena, Anne, Angela and Nick.  This was Dean's, Gena's and Angela's last dive trip from Singapore.  Dean and Gena are moving to Germany whilst Angela is moving back to Australia.
Tiger Reef was by far the best dive at Tioman with so many fish. At all the dive sites there had schools of bait fish and at Tiger Reef, there must have thousands of them. So many in fact that I had to push them aside to look at other stuff.  I was wearing my Oceanic Atom 2 which I have been using for the last 2-3 years and a Sunnto Zoop. Luckily I had two because my Atom 2 was giving all sorts of crazy readings and in the end it gave me 10 minutes deco. But the Sunnto Zoop still had 15 minutes of no deco time left.  Looks like I need to retire the Atom 2.
Well it's not really luck that I wear two dive computers. They both have slightly different algorithms and I like to be conservative with students. I haven't trusted the Atom 2 lately, especially when it decided to be at 5 metres for a few days, even when I wasn't diving, a few months back.
The fish life at all of the dive sites was amazing and there was a school of silver fish numbering in the 100's at most of them. I have never seen these fish before and from the fish ID books they appear to be blue trevally.  The golden trevally were also around and the  giant trevally (GT) and they were feeding on the bait fish, which was awesome to watch.  It was almost like Sipadan. In fact I haven't seen balls of bait fish for some time now at Tioman and they have returned!
Sunday morning we dived at Dolly and Jack.  Jack Rock, also known as Rock 4 to the locals was just out of this world and once again the highlight for the whole weekend.  The colourful soft coral, the thousands and thousands of fish, big and small and the viz. Wow the viz was at least 20 metres which is a rare event for Jack Rock.  We saw coral trout, puffer fish, trevally, butterfly fish, moray eels, nudis, pipe fish, bamboo sharks and cleaner shrimp and the list goes on.  It was so good I broke my own 45 minute dive rule and stayed for 65 minutes.  When I surfaced, Phil asked if I need a new watch?
One moment at Jack Rock and I was videoing ten or so cleaner shrimp (the see through ones in the video), I was really close to the rock and the hard coral to get the shot when Canice came and tapped me on the shoulder and pointed out a small moray eel no more than 5cm away from my right ear. I turned around and mask to teeth to the moray eel and wondered why he hadn't decided to eat my ear lobe for lunch. Canice later said that the whole time I was videoing the shrimp, the moray definitely had an inquisitive look on its face.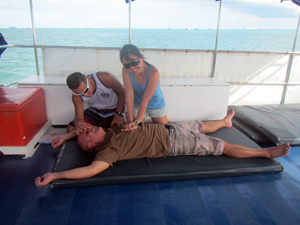 With 12 knots on the MV Seaborne on the way back to Singapore, I was a bit worried whether I would complete the PADI Emergency First Response (EFR) Course with Canice and Andy.
We had a great time with DVD sessions in the saloon, various bandaging exercises, CPR on both Little Annie and myself and Automatic External Defibrillator (AED) exercises.
Congrats to Andy and Canice for completing PADI Recuse Diver and EFR Courses.
Congrats to Rainer, Toby and Alex for completing their PADI Open Water Diving Course.
Glenda's Tip – Don't forget your Passport.
Cheers – Gary.
Thanks to PADI Dive Master Georgie for being a good sport and enduring the bandaging exercises on board.
Thanks to Gary Savins and Phil Perchard for the use of your photos. We hope you enjoy the videos by Gary Savins and music by Dano
Additional photos from our trip can be found on our Facebook page – please click here