I was happy to be diving after all the delays because of the Malaysian issues.  The MV Seaborne is still detained in Mersing, Malaysia.  Luckily the MV Giamani was available for all of June. She has travelled from Thailand to do a brief season ex Singapore before heading back with a trip of tech divers exploring the wrecks of the South China Sea.
The MV Giamani is a little slow. Hence we decided to head to Mapur, Indonesia instead of a long cruise to Tioman.  This weekend I had another group from an International School.  The same kids were onboard from a few weeks back, asking me non stop questions and this weekend was the same.
Garrrrrrryyyy, when is the next dive? Gaarrrrryyy will we see sharks? Gaarrryyy what is the water temperature?..Garrryy! Garrryy? So many questions. "I am tired already lah," I thought as I crawled to bed in the saloon early Friday night.
I was conducting PADI Advanced Open Water with Ekam, Mihir, Angelica, Aaqil and
Laura (who is a teacher at the International School).  PADI Instructor Glenn was doing the same with Theo, Xavier, Greselva and Desmond.  And Teacher Vicky, a PADI instructor as well , was conducting PADI Open Water with Wei Yu, Favian, Boris and Nelson.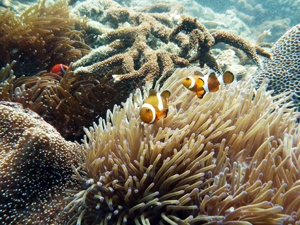 We did a bit of exploring and we dived some sites I have never dived before. Some sites were ok, some were great and some were not so good.
We (perhaps I is a better description) gave the sites some interesting names.
New dive sites included Glenn's Reef, Gary's Crack, Theo's Bottom and Chub's Reef.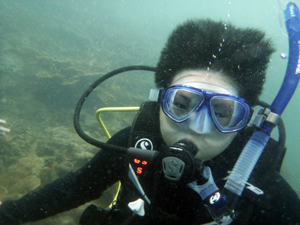 The viz was 5-10 metres depending on the site.
The further south we went, the worse it got.
We headed to the top of Mapur and the viz was ok, at around 10m.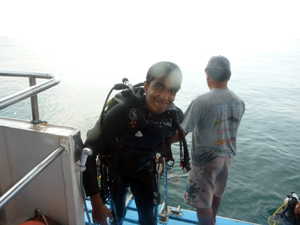 The last dive on Sunday we saw three huge bumphead parrot fish and a turtle almost ran into me.
I don't think they see many divers.
We left Tanah Merah Ferry Terminal (TMFT) via the Batam Fast Ferry to Nongsa, Indonesia. We boarded the MV Giamani at Nongsa.  After dinner on board, we headed off.  The MV Giamani is a steel hulled boat and is very comfortable and stable.  She can sleep 16 people in comfort all cabins have an en-suite.
Friday night was just like any other night, but it has been a while since I have been to Batam and was greeted with cheers from the local immigration agent Salmon. He is a nice happy guy, but he wanted to marry all the female Thai crew onboard the MV Giamani…can't blame him.
We left Nongsa at around 9pm and arrived at Mapur and engines off at around 4am. I managed to get a cabin sharing with Glenn and I slept really well.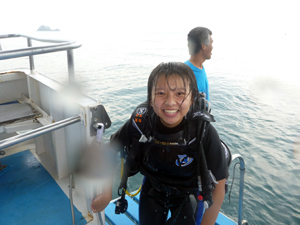 The first couple of dives were ok.
Not great, but we managed to find better and better sites as the day went on.
The currents were causing some issues and we had to back track a few times to avoid them.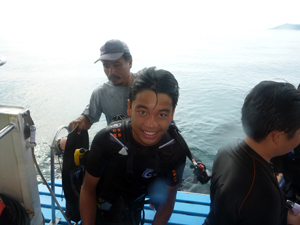 I am happy to say that everyone had a great time and passed their courses.
I was exhausted after the last dive on Sunday and went to have a nana nap around 9am.
I was woken by the crew at 1pm offering me lunch.
Glenda's Tip – Be adventurous and try new dive sites. You will be amazed at what the ocean has to offer.
Cheers – Gary
Thanks to Instructor Glenn and Gary for the use of your photos.