With the MV Seaborne closed for any future dive trips (until further notice) I booked my group of divers on the MV DiveRace.  The MV DiveRace is a nice comfortable boat.  I do however miss the MV Seaborne and its speed.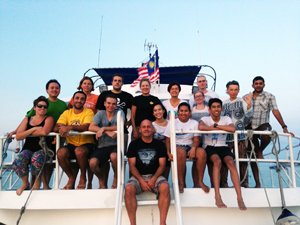 Of course we departed Friday night from Singapore's Tanah Merah Ferry Terminal and arrived back Sunday night, at the same place.
And the Thai dinner onboard, was great, considering I had missed lunch.
I certainly do like relaxing onboard watching the sun set on Friday nights.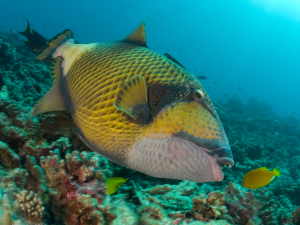 This weekend reignited my TFT (Trigger Fish Trauma).  At every dive we saw 1-2 and they were nesting and attacking people.  I saw this monster Triton Trigger Fish in the distance. It was upside down chewing on a rock with those huge sharp teeth.
This monster was seen at Chebeh and was at least 1.3 metres long, if not longer.  By far the biggest I have ever seen.  I quickly did an about face and got the hell out of there.
Just after I turned around, I saw Cynthia and gave her the signal for huge trigger and to turn around, which she automatically did in record time.
The next encounter was at Malang Rock. I bumped into Richard's group just after he had been attacked by one, that he claims to be bigger than the previous one.  Just as I looked down it was right there below me, thankfully it did not see me.  Again I escaped unharmed from this "small" trigger fish. Richard was suffering from underwater perception problems.
Triggers aside for a moment, this weekend we dived Jahat, Renggis, Malang Rock, Chebah and Labas for the night dive.  Sunday morning we dived Bahara Rock.
Chebah was by far the best site of the weekend, with ok viz up to 10 metres.  Loads of fish and a variety of colourful coral.  We saw 2 turtles and bat fish that were on steroids. Everything at Chebah was huge in size.  Even one of the cleaner wrasse decided that my right hand needed to be cleaned.  Never had one do that before.
During the night dive we saw a coral cat shark, a rare sighting.  The night dive was at Labas and I took my group (which was actually Richard's group). He was having sinus issues and could not dive. He went to bed early so he could dive Sunday.  Anyway, I took my group through some of the swim throughs, it was spooky and awesome at the same time.  Keli was a bit nervous about it, but had fun.  It was the best night dive I have done for a while. I will have to do that more often.
It was PADI Divemaster Trainee Richard's first time guiding divers. He had a good group of experienced divers to look after, so it was a good way for him to start guiding.  In Richard's group was Jake, a teacher from his old school, Rahul, Keli, Anne, Cormac and Fiona.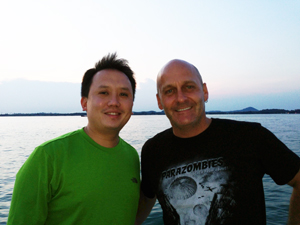 I was conducting TDI Advanced Nitrox with Joseph. Congrats to Joseph for passing the course.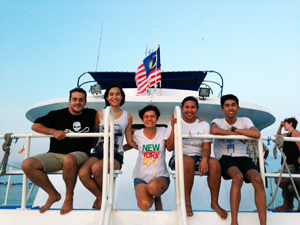 PADI Instructor Cynthia was conducting PADI Rescue Diver with Kimberly, Tanya and Brandon, a group of friends from an International School, along with Nicolas (one of my regular divers).  Poor Brandon had his mask pulled off during the rescue attempts a few times.  It was funny to watch the four of them trying to rescue a completely out of control panicked diver (pretending at its best) and having his masked ripped off.  Unfortunately I missed the PADI Rescue Divers straddle Cynthia up the ladder.   Well done to all four newly certified PADI Rescue Divers.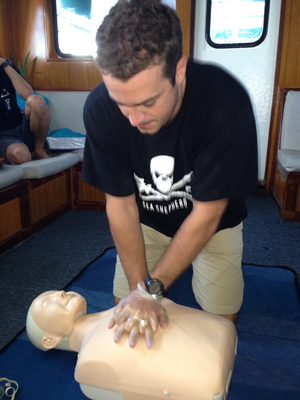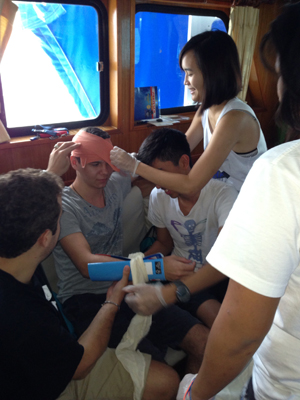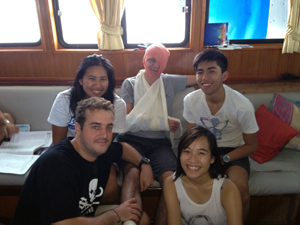 On Sunday on the long ride home, I conducted Emergency First Response (EFR) with the PADI Rescue Divers and we have a great time with Little Anne and bandaging Richard.
Quick note to thank Jake and Rahul for their awesome guitar skills and keeping me up Friday night a little later than I should have been.
Cheers, Gary Savins
PS – Sorry there are not many underwater photos, but I was conducting a course and Richard was concentrating on not losing his divers. Perhaps next time!