After departing from Tanah Merah Ferry Terminal, Friday night and returning Sunday night, we did 6 dives at Tioman, Malaysia over the weekend, on board The Ark. The best was the last dive at Bahara Rock where the viz was awesome. I guess after the last six weeks of Hantu viz at Tioman, I was happy to see 15-20 metre viz.  We saw a bump head parrot fish, a turtle and moray eels.  It was a great weekend with a good crowd of people on the live on board boat.  I made some new friends, which is always nice.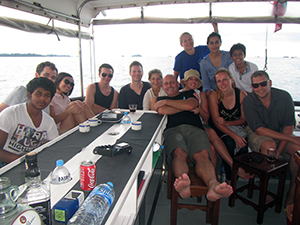 Instead of my normal report about the dives,  I  want to write about my students and the experiences we had.   I had a mix of PADI and SDI Open Water Students and a total of 8 when it all started the week prior to the trip.
On the first night, I had 8 students and my PADI Dive Master Trainee (DMT) in the pool at Outram Secondary School. One guy was really struggling with the mask clearing skills. He completed everything else but could not clear his mask without being overcome with fear and shooting to the surface every time. Basically, he was physically shaking.  He decided not to join the second pool session or the weekend away.
The second night I completed the pool skills with the remaining 7 and my DMT, but one guy could not complete the 10 minute float (he had tried both nights).  He could not keep his head above water for more then 90 seconds.  Each time his face went under water he would panic and grab the side of the pool. He had limited experience in swimming but still decided to try to do this scuba diving course.  He was aware of what he needed to do.
It was clear that he had a fear of being in water, so I advised him that he could not come and complete the open water dives. He was a danger to himself and others.  He is now going back to finish his swimming lessons and will rejoin scuba diving training once he is confident in the water.
On Friday night, when we departed, I was now down to 5 students plus 2 leisure divers. Richard, my DMT was looking after Anne and Shabeeu and a few other customers from the boat.  One student from the pool sessions did what is known as "a referral" and will be doing their dives later this month in Bali, Indonesia.
Dive one took about 8 minutes for everyone to descend. There was lot of pointing at ears – "a signal for equalising problems".  We managed to complete a 45 minute dive, but one student who was ok in the pool and showed no signs of fear, had several panic attacks and refused to do any of the skills.
Dive two started out about the same way, but when the same student who was panicking on dive one did the mask flood and clear skill, he panicked again and tried to swim to the surface. I was holding him down the whole time, trying to get him to relax and stop finning up.  10 minutes later I turned around and noticed he was on the surface.  I went up to talk to him and he decided not to continue with the dive.
During the briefing for the third dive, the guy that was panicking decided not to continue with the course and then told me he was claustrophobic (wish I knew that earlier).  So now I was down to 4 students, who all passed the course without any issues.
Congratulations to Katherine, Monica, Shahmeer and Zahrah on successfully obtaining your Open Water Certifications.
I wanted to write this all down, because as you may or may not know, an Instructor and his student drowned at Tioman this same weekend. They were not diving with me nor were they on the boat I was on nor was it related with GS-Diving.
I don't know the circumstances.  But I was glad that I made tough decisions and told one student not to come. I am also proud of the two others who were brave enough to admit, that diving was not for them.
Glenda's Tip – Let's face it, diving has its dangers and if not taken seriously and with respect, people die.
My condolences to the families of the victims.
Gary Savins