I couldn't make the dates for the December GS-diving trip to Tulumben so Gary kindly arranged the same itinerary for me to do independently. The coral reefs were amazing – packed full of interesting fish and critters. I'll be back…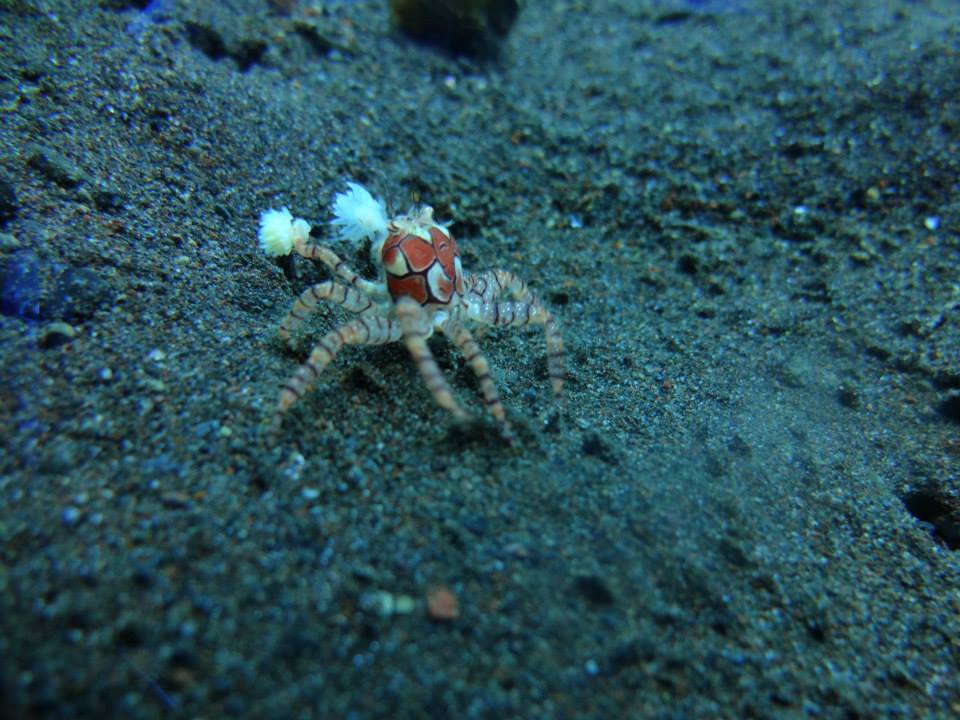 On the north east coast of Bali, Tulumben is a quiet village about a 2 hour drive from the airport. This was a pleasant change compared to the epic trip back from Sipadan I did recently.
The diving was great, if you don't mind early starts! Though the resort was just behind the dive shop, with the beach and dive sites opposite so it was almost like being on a live-a-board. Porters carried gear to and from the beach.  I was impressed with the ladies who put 2 tanks and bcds on their head like they weighed nothing. The wreck tends to get busy later in the day so I dived that first thing each morning and went to the other dive sites later in the day.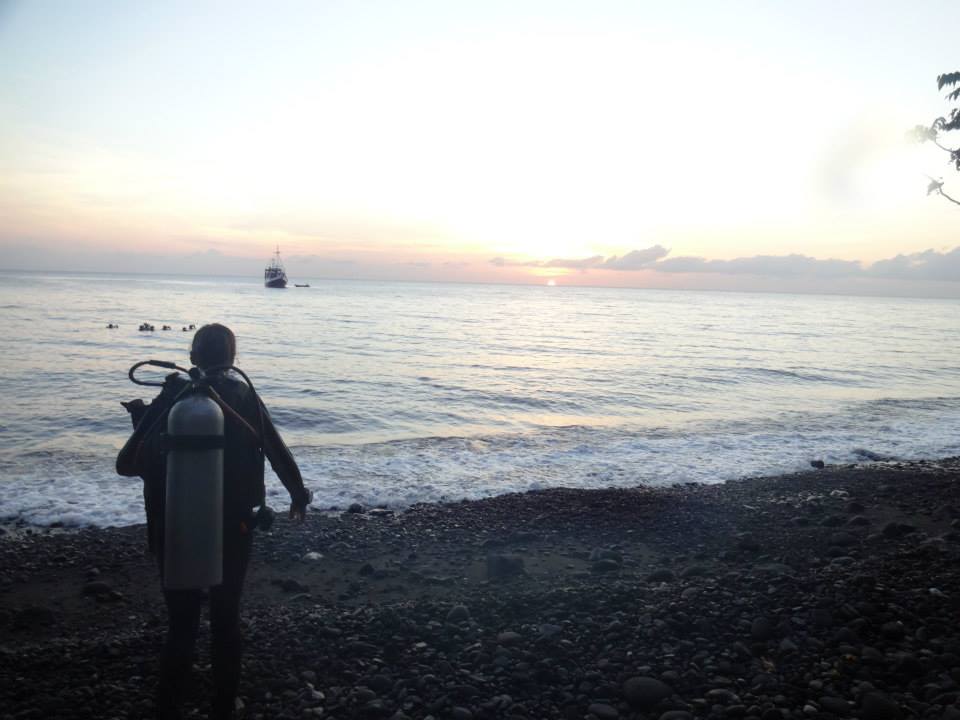 These were either a short walk a way and or a 10 minute drive away, and all but 2 were shore dives.  Which was perfect for poor-sailors like me.  I'd never done shore entries before and after breaking my finger and smacking my head trying to get in & out of boats in the preceding 6 weeks, I wasn't sure what injuries might be coming my way.  As it turned out, my injury spell seems to be over and thanks to the guides managed the entries and exits without incident!.
U.S.A.T liberty wreck is a 120m long WWII supply vessel which was deliberately stranded and then was pushed into the sea by volcanic activity in the 1960s. It's now teaming with corral and fish life, and is just 30m at its deepest point so perfect for non technical divers.
I could clearly see the guns, anchor and the wheel for a hatch and its got some great swim throughs too. I was amazed by the variety of fishlife living there. The wreck was an added bonus!
After 2 morning dives on the wreck and just seeing one of my "cousins" the bump heads  on each, I decided to set my alarm a little earlier the next day to try and catch them before they headed to the drop-off. Slightly bleary-eyed, we were in the water a little after 6.15am (note for Gary- yes, there is more than one 6.15!). It was definitely worth it as I saw a school of about 20 bump heads. More than Sipadan!
Another dive group had got in the water early and unfortunately chased the fish off the wreck in two minutes flat.  My guide and I had kept our distance so when the other dive group turned back we were in a perfect spot. We had the whole school to ourselves for about 10 minutes. It was incredible as we were so close I could have just reached out to touch them and several were happily just swimming around me.  The next day divers with cameras chased the bump heads off the wreck, and then back onto it again. Swimming with these giants amongst the wreckage was awesome! My luck was in that day, as I saw bump heads on the rest of my dives, though just 2-3 each time rather than the whole school.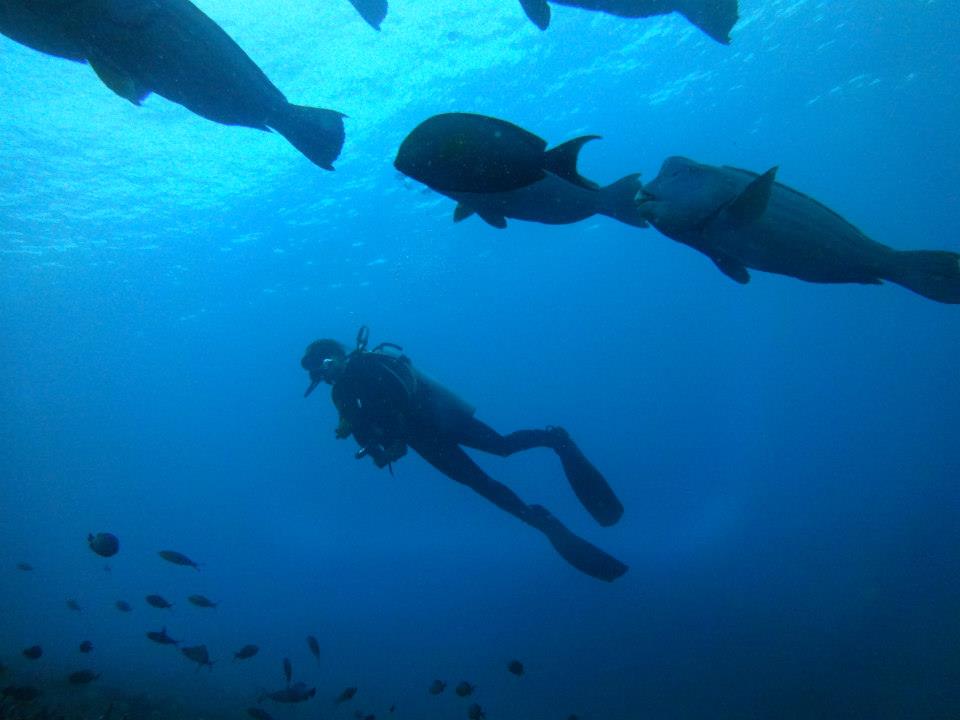 Other dive sites included Coral Garden, The Drop-off, Palung Palung and Seraya. The local community has gone to some efforts to encourage coral and marine life to flourish, and on the more coral-sparse sites there were artificial reefs and some religious monuments. These were clearly thriving as I saw two lionfish on one structure and a cuttlefish swimming around another. The fish life on the Tulumben sites was just as stunning.  On more than one occasion I saw five lion fish on a single dive site, as well as a pair of both cuttlefish and spotted rays  on another.  There were reported to be seven pygmy seahorses on one seafan alone, though I only saw four before I ran out of bottom time.  Coupled with rays, blue ribbon eels,  several peacock mantis shrimp, a boxer crab, blue hairy squat lobster,  long finned banner fish, schools of 1000s of fusiliers,  many types of nudibranhe (see photos, I don't know their names)  I raced through my camera memory card.  The coral was pretty stunning too, lots of varieties I hadn't seen before and some of the pieces were bigger than me.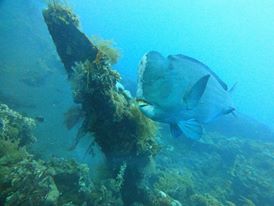 The vis varied between  sites, most were around 10-15m (real metres, not Gary metres). Over my 12 dives, other things I saw included: Pipefish, trumpetfish,  many types of puffer fish including a prickly leather jacket, lots of big sweetlips and some baby ones, lots of coral cod and other groupers, Goatfish, angel fish, butterfly fish, several Scorpion leaf fish, a Hawksbill turtle, Blue spotted stingray, Octopus, big and small, Razor fish, an orangutan crab and lots of small crustaceans I couldn't name.
The resort was really well run, with friendly and helpful guides which wasnt the case at all the shops based on feedback I heard  from other divers.   The early start to diving  meant I was finished by lunchtime and could relax by the pool/ sleep/ drink/explore in the afternoons. I chose to take advantage of the S$10 massages on more than one occasion! Lots of people I met were making repeat visits, and I could see why.
Sarah's tip: the early diver catches the bumphead parrotfish
Take your broken flip-flops if you visit.  You can get the straps repaired at the local market