This weekend was hectic, fun and tiring.  I had 18 people on two boats Saturday morning, 8 on one boat in the afternoon and 16 on two boats both Sunday morning and afternoon. We were diving at a local Singapore island called Hantu. I must admit, I do enjoy not having to worry about passports.
It required logistical co-ordination to support all the boats and the equipment everyone needed. Thankfully my DHL skills came in handy and with a little bit of running around (I call it "exercise") it was all sorted and we ran on time for most of the trips.
28 students and 2 teachers joined from a Singapore International School. We completed the PADI Open Water Dives 1 and 2 with 16 students and the 12 students doing the PADI Advanced Open Water Course had a fun dive and completed the Navigation Dive.
I was completely amazed when each of my students managed to do a nice square underwater and make it back to where I was waiting.  This was done at Hantu in limited viz.  Well done Richard for teaching them how to use a compass on land at the school the week prior.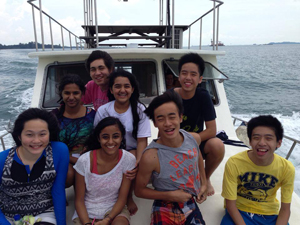 I also did Dive 1 and 2 of the PADI Open Water Diver Course with Jerome and Greg, their friend, JP, a PADI Dive Master followed along.  JP was awesome. I did the basics and he took over explaining in more details in French and off we went.
Jerome and Greg dived really well on their first two dives.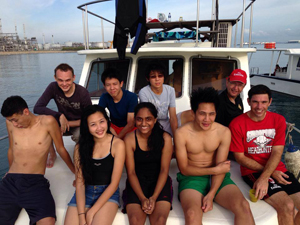 This weekend we introduced a new GS-Diving PADI  Instructor to the team – Patryck Cwaniaczi.  Patryck is a young Polish guy doing his PHD in Singapore.  I am sure you will hear more about him.  Patryck is in the back row on the left.
Richard, my PADI Dive Master Trainee, had the weekend off to take some land based driving lessons.
Helping me all weekend, was PADI Instructor Phil and PADI Dive Master Georgie.  Phil was non stop teaching PADI Open Water and PADI Advanced Open Water Courses and doing a great job at it.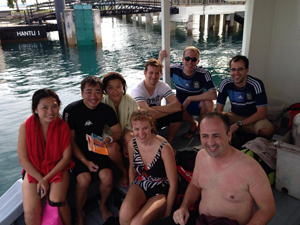 Georgie was guiding all the leisure divers on the second boat and also doing a great job.
Thanks Phil and Georgie for a great weekend.
I completed 8 dives during the weekend and during the last 2 dives I was suffering with a blocked nose. I guess I caught this from the students that I had been teaching from the International School. Anyway, I woke up feeling pretty bad Monday morning.  Went to the doctors, got some drugs and slept most of Monday away.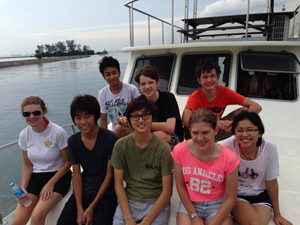 Hantu was not at its best over the weekend. The viz was off on some dives and just "ok" on others. We moved from site to site, to try and find some good viz that suited the training we were doing.  We went to the jetty at one stage and decided the current was too strong and took shelter in the calmness on the outer reef.  There was very little current so diving was easy.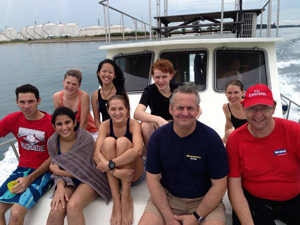 Scott who dived with us last weekend, was a little disappointed with the lack of fish life. But I guess it is just one of those things.
"Sometimes great, sometimes not so great, but it still beats sitting at home a lounge chair on a Sunday," says Scott.
It doesn't take much to convince him to come diving.
Hantu is becoming a macro haven with nudi's everywhere. I also found an anemone with four clown fish and ten glass shrimp.  Stuff you see at Lembeh, Indonesia.
We dived the small wreck twice over the weekend and enjoyed the good fish life it offers, bat fish, rabbit fish, grouper and loads of small fish.  It's a small shallow wreck at 6-9 metres that takes about 15 minutes to dive it.  Then we headed north east to the reef to view all the macro stuff.
We have another wreck that we are waiting to dive at the right tide and with the right divers. This wreck is slightly deeper at 14-18 metres and much larger.  It looks like a big bum boat of sorts and when Phil and I did a quick dive the other week, it looked very good with awesome fish life.
Well done to all the student divers that are now well on their way to completing their scuba diving courses this month.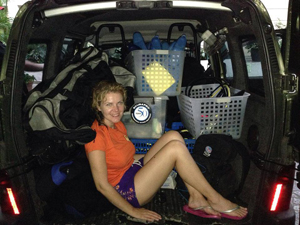 Sorry about squeezing you in the back with all the gear on Sunday on the way home, Georgie.
Cheers, Gary