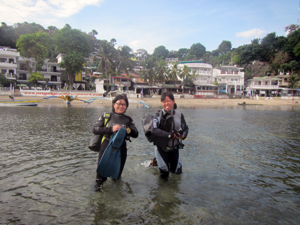 I have to start by saying, "WOW!"
Puerto Galera (PG) in the Philippines was fantastic, not just the diving, but Sabang Beach is a great place to stay, as well.  It is busy little town, all about diving.
The narrow walkways wind past the locals houses, dive shops, pubs, hotels and restaurants.  There are divers and dive tanks everywhere.
The best part about PG was that the dive sites were no more than 5 minutes away.  Sure, you can venture further out to other sites if you like, but why would you?  There is everything just off the beach.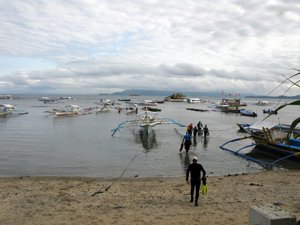 The beach is loaded with dive boats both with local Banka style boats and modern boats. People were coming and going all day and night.
The logistics where perfect. We stayed right at the dive shop and everything ran on time.
We completed 9 day dives. We did not do a night dive because the water temperature during the day was 23 degrees.  Everyone was very cold and we managed about 45 minutes per dive, we could have gone longer but it was just too cold.  I wish I took my 5mm not my 3mm wetsuit. But having said that, with a short 5 minute boat ride back to the beach after each ride, we really couldn't complain.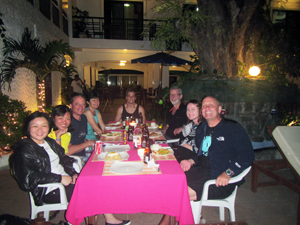 Joining me for the 3 days diving was Karen, Robert, Scott, Shirley and Rosanna.  Elliot, Scott's son and Daphne, Robert's wife are non divers but they both enjoyed PG.
I also completed the PADI Advanced Open Water Diver Course with Rosanna during the week.  Well done Rosanna!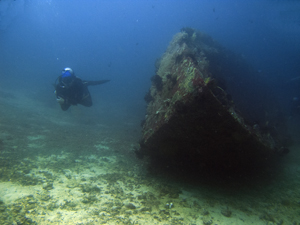 PG has everything, wrecks (loads of them), deep walls and shallow reefs.  I was very impressed with the coral. There was very little damage and the soft coral was incredible.
One rock was covered in soft coral of just about every colour you can imagine. And from what I understand, the first few dive shops opened about 27 years ago. So since then, the reefs have been well looked after. But this is really an understatement.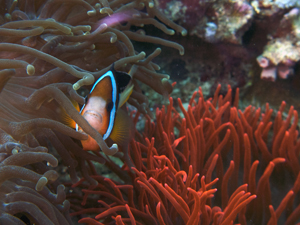 The reefs are so pristine! No dynamite fishing and no broken coral from novice divers either. And just to add, the water was clear of plastic bags or other rubbish that is commonly found in such places as Bunaken, Manado Indonesia.
The fish life was also fantastic. Schooling rainbow runners, fusiliers and some large trevally circled us and we even saw a huge Spanish mackerel.  There were thousands of clown fish of every variety. Countless fish everywhere made it difficult to focus on one thing.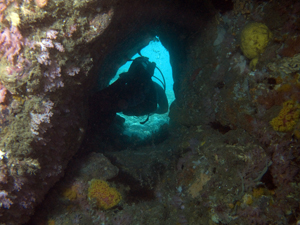 We dived "The Hole in the Wall" twice, because it was just so fantastic.  Drifting along the reef in a mild current, spotting all the fish and coral for about 20 minutes, then you arrive at literally a small hole in the wall, just wide enough for a diver to swim through.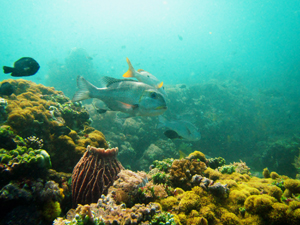 When you reach the other side the current is stronger, but that is where all the big fish were.  They were located between two large longish boulders, enjoying the current and the cleaner fish. Big snapper, big sweet lips and a few huge groupers.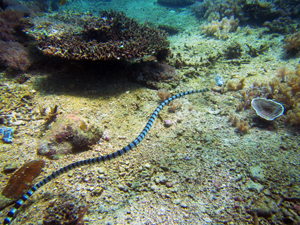 On the second dive during our safety stop we even saw two banded sea snakes.
We did one dive just in front of the dive shop and we checked out 4-5 wrecks.  These wrecks are just old dive and fishing boats that have been sunk on purpose.  They are covered in all sorts of cool stuff.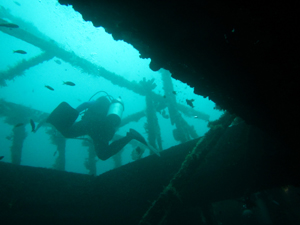 We also did a dive on a deeper wreck called the Alma Jane, but so did just about every other diver in PG at the same time.  Nice fun wreck, but too many people kicked and bumped into me.
At 30ish metres it was rather deep, so the bottom time was rather limited diving on air.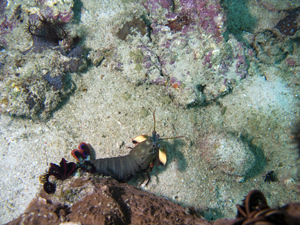 The macro life was awesome.
Mantis shrimps, orangutan crabs, nudi's of every colour, cleaner shrimp and banded boxer shrimp, porcelain crabs and harlequin shrimp were seen, just to name a few.
The journey there and back was not too painful. It was a 3 hour flight and a 3 bus ride with a 1 hour boat ride.  We stayed in Manila the first night to break up the trip.  But we did the whole thing on the way back and some divers I knew from Singapore who we met at PG, (Amy and Dave) joined our group on the way back.
I have to add a little story and trust me there are a lot of funny stories I could tell you. Prior to the first dive Daphne was watching in amazement as Karen assembled her underwater camera rig, housing, strobe arms, strobes and lenses.  This whole process takes about 10 minutes.  So I grabbed my point and shoot placed it in the housing and shut the housing door.  While I was doing this I said to Daphne, "See how long it takes Karen to set up? Watch this! Done and ready to go!" I laughed and looked at Karen who was giving me the stare of death and shaking her head profusely.
10 minutes into the dive I went to take a picture, only to notice that the housing was full of water.  Opps! That will teach me for being a smart a@@e and showing off.  Don't worry, it is a water proof camera too.  I use the housing because the camera is only rated to 12 metres, the housing allows me to take it deeper.  It took the next two days to dry the inside of the housing. I guess Karen knew what she was doing when she chose this camera for me last year.
So most of the pictures you see here were taken by Karen and her amazing camera! But I do hope you like the wreck photo of Alma Jane, that was taken by me on the last day of diving.
Glenda's Tip – Google has amazing information regarding temperature. A jumpy and layers is highly recommended for both in and out of the water in the Philippines in late January, early February.
Cheers – Gary
Thank you to Karen Savins for the use of your photos. Additional photos from this Puerto Galera Trip can be viewed on the GS-Diving FaceBook Page – click here to view