This weekend GS-Diving went to Sibu, Malaysia to conduct the PADI Open Water Course with students from an international school. Sibu is only 3 hours away from Singapore by bus and boat.  Getting there and back was really easy, much easier than going overland to Tioman.
We had some visa immigration issues and unfortunately had to leave three student divers behind. The teacher that was travelling with the group went back to Singapore with the three girls.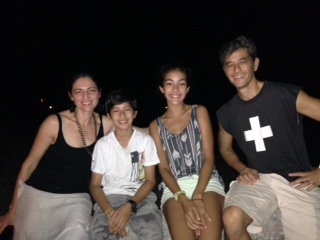 That left me with Kenza and Tai who needed to complete Open Water Dives 3 and 4. GS-Diving Instructor, Glenn had completed dives 1 and 2 a couple of weekends back.  Their parents are certified divers and followed the kids during their course.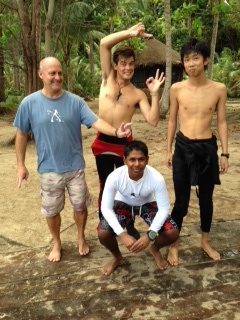 Tomoya from an International school was taking the PADI Open Water Diver Course. Shabby from the same school was tagging along.  I had to use one of the local instructors to complete the course with Tomoya, because I had four divers already which is the maximum allowed when there is a 10 year old. Tai is 10 and Kenza 14.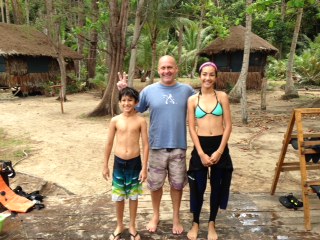 We completed 3 dives at the house reef. The the viz was ok, say to 5-7 metres.
Loads of fish and a few nudis and no current made it a great training location. There was a lot of sandy areas to kneel down in to complete skills.
On Sunday we did a boat dive to Lima Besar. The viz was great, up to 10 metres. We saw schools of trevally, rainbow runners, fusilers, cuttlefish and a moray eel.  Everyone had great air consumption, so we did a 60 minute dive to round up the weekend.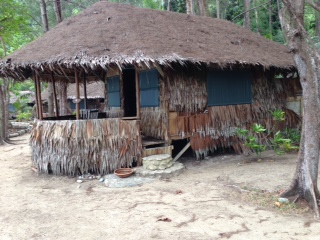 The accommodation at Sibu is basic but very comfortable and extremely quiet.  I sleep so well in these huts.  The huts have ensuites and they face the beach.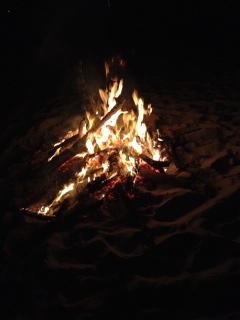 The food at the resort is awesome and after the BBQ dinner on Saturday we had a bonfire on the beach, which was a lot of fun.  The kids ran around finding sticks and so on, keeping the fire going as long as we could.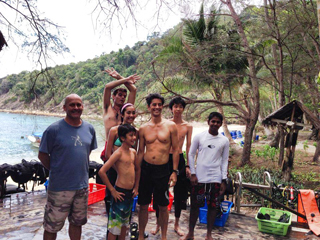 Well done to Tomoya, Kenza and Tai for completing their PADI Open Water Diver Courses.
Cheers, Gary