Another fantastic weekend with great visibility at the "World Famous" Pulau Hantu, Singapore.
On Saturday, we were on the Dolphin Explorer where we dived The Jetty and the reef behind The Jetty. The viz at both locations was over 5 metres. The puffer fish was still at the same place at The Jetty as last weekend, along with the flat worms and the school pomfrits.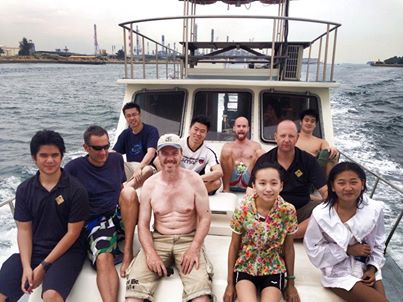 Saturday was the first dive trip for Favian, my newest GS-Diving PADI Divemaster Trainee.  He helped me with my two PADI Open Water Students, Sanyue and Sima.  Also onboard was GS-Diving Instructor Phil, who was completing PADI Open Water with his neighbour, Paul.  Also diving was Carlos, Marcos, Si Mian, Book Leong, Yue Han.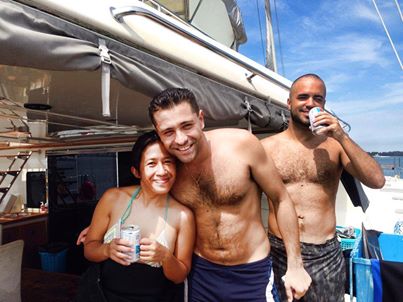 Sunday was a slightly different trip onboard the luxury yacht, Sunreef 62. We did two dives at The Jetty again, in amazing viz.  We were at the western jetty, not the one that is dived often.  GS-Diving Instructor Sara was looking after 4 divers and was pleased to see a seahorse.  I was looking after another 4 divers and at the pylons of the old jetty there were 100's of pomfrits.  We were at 10 metres and I could see all the way to the surface.  There was one cuttlefish and loads on nudibranchs too.
After the 2 dives we had an awesome BBQ onboard the Sunreef 62 with burgers, sausages and some green stuff.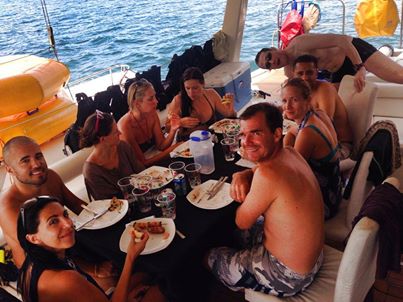 On the Sunday trip we had Brian, Katy, Aurielle, Marion, Laurent, Beniot, Celine, Dianne and Eric.
Glenda's tip – Dive with good buoyancy to enjoy the exceptional macro life at Hantu. There are patches of sand at the bottom.
Congratulations to Paul on completing your PADI Open Water Diver Course. The girls will be completing the second part of their Open Water Dives next weekend.
Cheers – Gary