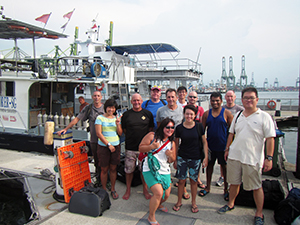 Another great day diving around Singapore, the conditions were amazing with no current on all three dives.
Monday was a Public Holiday celebrating Hari Raya Puasa and a few people were still in Singapore to enjoy their day off.
We headed out later than normal at 10am and completed three dives around Pulau Hantu.
The visibility was good at 3-5 metres. The second dive at the Western Jetty was by far the best dive with so much to see. My video below gives you a good indication as to what we saw.
Qin En completed his PADI Rescue Diver Certification during the trip.  The rest of the divers were all leisure divers, Pei San, Mike, Daniel, Paul, James, Jade, Robert, Leon, Suvimol, Saviodu and GS-Diving PADI Dive Master Karen, all enjoyed themselves.
The first dive at the outer reef was not so exciting with only a few sightings of nudibranchs and some coral fish, tomato clown fish and false scorpion fish.
The second dive at The Western Jetty really was a real treat with a spadefish, a batfish, a white tip reef shark (ask James about this one and his eyes will light up in excitement. He saw this one too!), schooling barracuda, schooling pomfrits, more coral fish, puffer fish, a seahorse, an eel and so much more.
A small storm errupted after this dive, so we headed over to the other Jetty for shelter. The third dive was at The Eastern Jetty, still a good dive with loads to see including many different types of nudibranchs, two octopi, a cuttlefish, a large juvenile many spotted sweetlip and schooling pomfrits.
Qin En was a little surprised when he had to jump in the water and "rescue" a distressed swimmer, namely Karen pretending to have trouble returning to the boat. Actually we weren't too sure as to how she managed to slip into the water without everyone noticing, but I guess that is part of doing a PADI Rescue Diver Course.
Local diving is really picking up and the sightings are getting better all the time.  If you don't mind the limited viz it really can be very enjoyable.
Glenda's Tip – Don't forget to bring your torch. It will help pick up the colours of the reef and easily help you identify your dive buddy. And remember a light circling on an object, means there is something to see, so slowly come closer and take a peep.
Cheers,  Gary Savins
Video by Gary Savins and photos by Karen Savins
Additional photos from the trip can be found here – GS-Diving Facebook Album