I was lucky enough to have the opportunity to go diving on Christmas Day. I guess being in a foreign country can excuse you from visiting relatives. Although I must confess, I did miss seeing everyone and the afternoon Skype call to Australia, just wasn't the same.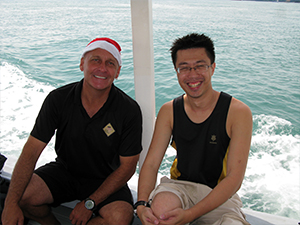 I joined GS-Diving at Hantu, a local dive site just 30 minutes away from Singapore on a fast dive boat called the Dolphin Explorer II.
We had a lot of Christmas spirit on board, from Christmas hats and special Christmas treats (thanks Esther).
There were a total of 10 recreational divers in the morning and 4 recreational divers in the afternoon.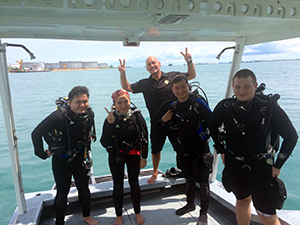 Roland was very keen and dived both the morning and afternoon sessions, but I just dived in the morning.
Esther was diving with her daughter, Theodora and her friend YuYing. Esther wanted to ensure that Theodora, a Junior Open Water Diver had a bit more practice before their next trip to Bali to find the mantas. They worked well in their three team buddy system and Theodora enjoyed deploying her Surface Marker Buoy (SMB) too.
My two morning dives were rather ordinary, to say the least. I imagine that it didn't help that I had just returned from Bali, Indonesia two weeks prior and comparing the two dives sites was not a good idea. In addition, Singapore had been experiencing torrential rain and king tides. Combined together meant underwater snow.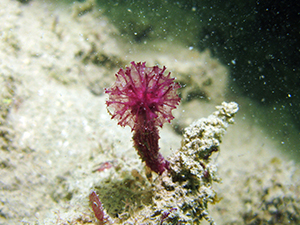 The first dive at The Break Wall saw me bumping into fish and having insufficient time to take decent photos of them. I am not too sure who was more frightened more. Me or the fish who would dart away quickly with large bulging eyes.
My dive buddy thought this was amusing.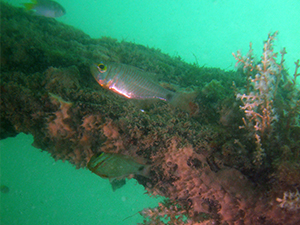 The second dive was at The Wreck and I lost my buddy as soon as we reached the bottom of the rope. I quickly snapped two photos, hoping my strobe would get his attention, but alas after waiting one minute, I then slowly ascended and found him on this surface. The viz was 80cm at the most.
We decided to swim over to the reef to complete the rest of the dive, but it was just as bad as The Wreck. We ended that dive after 15 minutes.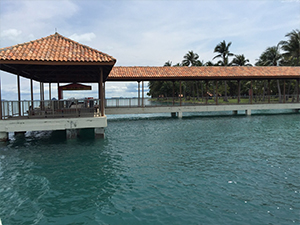 Apparently the afternoon diving was much better and Roland and the other afternoon divers had 2-3 metre viz. They managed to see many nudibranches, I guess because they were no-longer covered in white sandy particles and they even managed to greet the resident turtle underwater.
I also believe the high tide helped too.
In any case, it was fun to be on the water and I look forward to see what 2015 brings.
Cheers, Karen Savins
Photos by Karen Savins
Additional photos from Christmas morning can be viewed on the GS-Diving Facebook Page – here