Due to the recent weather patterns, the currents have been hard to predict at Bintan and Batam, Indonesia. But that definitely hasn't stopped us from having a diving filled weekend! It just means that us, the GS-Diving Divemasters and Instructors working on the Seaborne (live on board), have to work just a little bit harder.
Our Saturday morning started with a fast ferry from Tanah Merah Ferry Terminal, Singapore. We arrived at Nongsapura Ferry Terminal about 1 hour later, cleared customs, boarded the free 10 minute shuttle bus to the Seaborne berthed just around the corner at Nonga Point Marina and Resort. Within an easy 2 hours from our initial meet up time, we were busy assessing the first dive site.
When we got to the first dive site, Bernard and Gary jumped into the water and checked the conditions and the current. We had 3 brand new diving babies who were going on their first dive so we were looking for a location suitable for their experience level. It took a little while and we moved the boat around to a few different dive sites before we decided to descend at Kalang Passo. It didn't matter to us that the moving around  resulted in us behind a little behind schedule as safety is always our priority. We were very grateful that the leisure divers onboard were very understanding and patient.
I had a group of 5 Advanced Open Water students who had not dived in over a year with only 4 dives under their belt but despite their lack of experience, all 5 of my divers surprised and impressed me with their composure underwater. It's never easy to dive in poor visibility (around 3-5 metres) so it is quite common for people to feel nervous and scared, but the 5 of them were amazing.
We started the course with the Peak Performance Buoyancy. It definitely took us awhile but after a 55 minute dive, all of them left a little more confident. If they were ducklings, I would have been a proud Mama duck. We had one of the leisure divers come with us and he took a couple of photos of us while we were practicing the skills.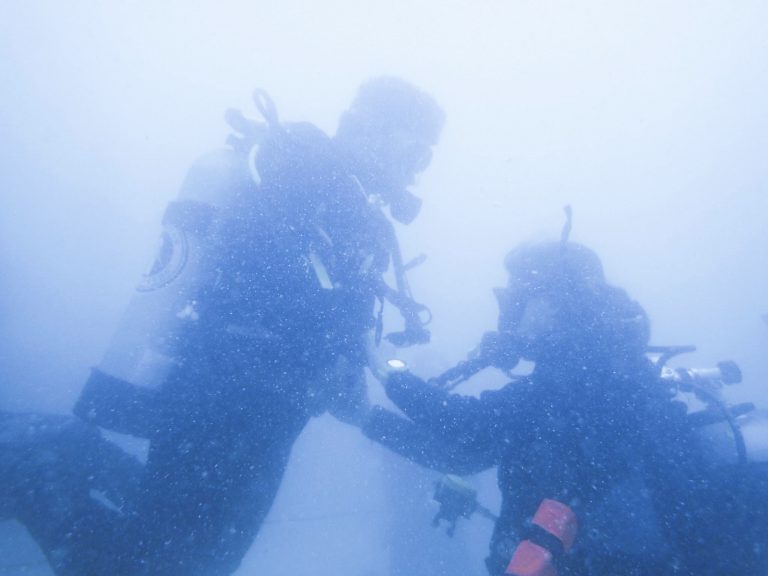 We had a few more interesting dives on Saturday but the highlight was definitely the night dive. The current was a little strong at the beginning so we drifted with the current until we reached a relatively sheltered part of the bay. I spotted a cuttlefish, crocodile flathead, numerous crabs and one of my divers even spotted a stingray! I sadly do not have pictures of the dive as I was teaching and did not bring a camera down with me.
My students were ecstatic and I believe, the night dive was their favourite amongst the 5 PADI Adventure Dives they did across the weekend.
On Sunday, we had 2 dives left. Our deep dive and a boat dive. During our boat dive, the visibility had improved giving us around 5-8m visibility. We came across an anemone with a family of anemone fish, now more commonly known as "Nemo", and a juvenile harlequin sweetlip. During our safety stop, we also had a juvenile jellyfish join us.
At the end of the dive, we headed back to Nongsa Point Marina and Resort for the nice hot shower that we all deserved. Before heading back to Singapore, we had a light lunch and exchanged some stories from the weekend. After 6 dives between the islands of Bintan and Batam, we left with 5 new PADI Advanced Open Water Divers, 3 PADI Open Water Divers and 3 happy leisure divers.
Much thanks to my colleagues, Katherine and Gary Lim, who taught and assisted the PADI Open Water courses and also to Bernard, who guided the leisure divers throughout the trip.
At the end of the trip, we headed to Gary Savins' house and celebrated Bernard's birthday in advance.
Many people say that I'm lucky to be working as a PADI Diving Instructor, but I disagree. Becoming a PADI Dive Instructor is one thing, but the colleagues, whom I can call friends, now that's luck!
Cheers,
Denise (GS-Diving's full-time PADI Instructor)
Save