Tioman has beautiful beaches with surrounding marine areas. The landscape and the beauty of the island have attracted many tourists, locally as well as from abroad, and the island was once voted one of the 10 most beautiful in the world. In addition to fishing activities, tourism has become a very important income generating activity on the island. Many tourist facilities such as chalets, rest houses and hotels have been built, either by the state government or the private sector. While it is fair to say that development over the last 10 years has had some adverse impact on the islands' environment, it remains a beautiful and restful place.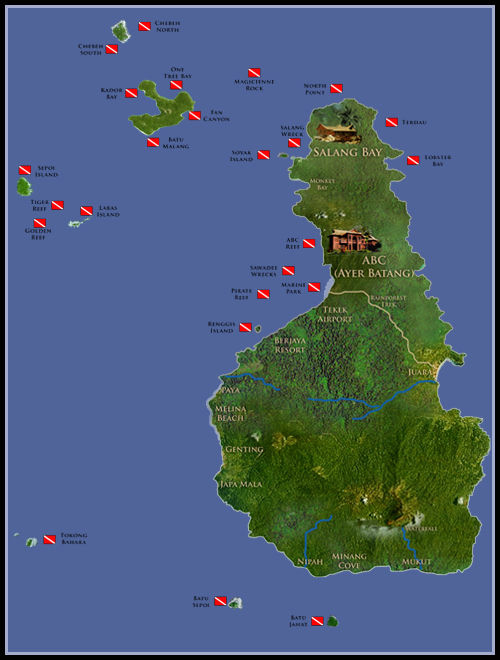 Apart from beautiful beaches and marine ecosystems, Tioman has also been gazetted as a wildlife reserve by the state government to protect its flora and fauna. This gazzetement was done on 28 September 1972 for the inland forest area encompassing 12,383 ha, but in 1994 part of this area was excised for agriculture development and tourism activities.
The marine area around Pulau Tioman and eight other nearby islands have also been gazzetted as marine parks and marine reserves, confined to an area two nautical miles from the coast. The establishment of the marine parks and reserves is to conserve and protect marine flora and fauna such as fish, coral reefs and aquatic floras from being destroyed by fishing and other human activities.
Tioman Island is located about 35 km off the east coast of Peninsular Malaysia in the South China Sea. Most visitors to Tioman depart the mainland from the port town of Mersing.
GS-Diving offers divers the choice of how to visit this jewel of the South China Sea. Either have the luxury of departing from the Tanah Merah Ferry Terminal in Singapore on a live-on-board boat or travel overland by bus and ferry.
The main diving season is from April to October each year and is unfortunately the marine park is closed from November to February, due to the monsoon season.
Tioman and the surrounding islets offer many exciting dive sites for novice and also challenging ones for the experienced.  There is a dive site for everyone and some are detailed below.
Fan Canyon – as the name implies, this dive site has magnificent fan coral amongst the large boulders.  Fish life is abundant and it is a very colourful place to dive.  The depth ranges from 10 to 35 metres.
Malang Rock – average depth 8 metres, but can have limited visibility due to the usually choppy conditions. Suitable for snorkelling
Pulau Labas – average depth 15 metres, swim among and through a large jumble of volcanic rocks. Expect angelfish, butterfly fish, gorgonian sea fans, scoprian fish, stonefish, sea urchins, sea cucumbers and sea stars.  Although you do need to be careful of the trigger fish when it is nesting season, as they have been known to attack your fins and your mask.
Tiger Reef – usually has a current due to the nature of the pinnacle. Average depth 25 metres, maximum depth 30 metres rising to 10 metres near the surface.  You can dive with large schools of fish, good sponges, sea fans and lots of nudibranches. Expect to see barracuda, rainbow runners, wrasse, angelfish, butterflyfish, triggerfish, lionfish, moray eels, blue spotted ribbon rays and occasionally turtles.
Soyak Island Reef – average depth is 15 metres. There are colourful soft corals that cover the Soyak reef and the wrecks nearby that make this a popular night dive spot. A common sighting in this area is a 1.8m giant grouper. Apart from local tropical reef fish, turtles, lion fish, bump head parrot fish, nudibranchs, yellow tail kingfish, trevally and fusiliers.
Renggis Island – there is usually calm sheltered water around this island.  the average depth 9 metres to a maximum depth of 12 metres.  There have recently been sightings of shy black tip reef sharks swimming on top of the coral. The west side has beautiful whip coral and gorgonian sea fans where the barracuda like to swim. Most of the usual local species are available, like angelfish, butterflyfish, batfish, sting rays, sea cucumbers, cushion stars and sea stars.  There is also a gym if you care to try the treadmill and man-made monkey bars underwater.
Jahat Island -average depth is 15 metres with a maximum depth of 25 metres. Jahat Island means Naughty Island, but the origin of the name is open to speculation. The island is surrounded by large boulders, creating a labyrinth of tunnels, corridors and caves. Barracuda are the main attractions here, but don't miss swimming with the resident turtle or the occassional reef shark. Hard corals, sea anemones and sea fans complete the picture
Pulau Sepoi – the average depth is 12 metres with a maximum depth of 18 metres. The rock formation on the north western side is the best with a good coral growth and lots of large brain coral.  Here we can find several nurse sharks sleeping underneath them, they usually measure around 1m in length. Explore the abundance of reef fish such as lion fish, scorpion fish, green and brown moray eels, jacks and countless butterfly fish and rabbit fish.  Visibility can be between 10 to 20 metres.
Bahara Rock – tends to be choppy with strong currents.  Visibility is usually around 10 metres.  The average depth is 15 metres to a maximum depth of 18 metres.  This is a mini drop off, so various pelagic species as well as most of the local reef fish can be seen amongst the soft and hard coral.
Pulau Chebeh – usually calm, although this site can be choppy with often a surface current and surge, but these disappear as you get deeper.  Average depth is 25 metres to a maximum depth of 45 metres.  You can swim in, around and through the gaps between large volcanic boulders that tumble down to a flat sandy bottom. There are lots of big soft corals, large gorgonian sea fans and some black coral.  Many schools of smaller reef fish, along with pufferfish, angelfish, butterfly fish, wrasse, moray eels, spotted sweetlips, gobbies and lizardfish.  On the stony coral are Christmas tree worms, fan worms, sea stars, sea cucumbers, scorpionfish and stingrays.