The Gyoshin Maru (aka Berhala Wreck or Varella Wreck) is unfortunately little known, largely because she was only in service for less than 3 months before she ran aground on the reef off Pulau Varella on Dec 19, 1944 and sank. We show above a photo of the very similar Yoshin Maru- she is nearly the exact same tonnage and was launched from the same yard only 4 months after the Gyoshin Maru.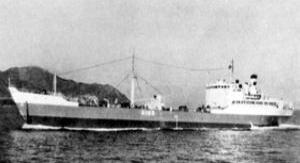 The Gyoshin Maru was built in Japan by Hitachi's Sakurajima yard and launched in Sep 1944, serving briefly in the closing days of the war. Her final run had her leaving Japan on Nov 3, 1944 as part of the large convoy MI-25 which contained 22 cargo ships and 5 escort vessels bound from Moji, Japan past Cape St. Jacques off Southern Vietnam to
Miri in Borneo.
The convoy arrived in Miri by Nov 26, 1944, with one ship sunk and another vessel damaged along the way due to torpedo attack by the US submarine USS Jack. However, by Nov 30, 1994 the Gyoshin Maru was already turned around and headed back to St Jacques as part of the small convoy MI-26 with only two other tankers and two escorts.
On reaching St. Jacques on Dec 4, 1944 she then broke away from the convoy, which continued north up the coast of Vietnam. Two weeks later she was aground on the reef. She is now resting in generally 20 meters of water in two main sections, both with an east-west orientation. The forward part rests between Pulau Berhala (approximately 30km NE of Nenasi in Pahang) and the rock she hit, while the stern section which is badly broken up is located east of the rock.  The rock is known as Varella Rock.
Her bow rests on an even keel, around 11 metres in height from the sea bed. Her stern is in a few pieces; the most prominent being the two AA-gun emplacements which sit in an upright position, making it an excellent photography subject. It is important to note however that there are lots of ammunition and other unexploded ordnance scattered about the wreck. The no touch rule applies.
Also please remember this is a steel wreck that has been in the water for the past 62 years. It is badly mangled with rusty jagged edges.
| | |
| --- | --- |
| Wreck Details | |
| Name: | Gyoshin Maru |
| Type: | Japanese tanker that was converted to an armed merchant ship |
| Armament: | 2 anti-aircraft gun emplacements |
| | |
| Length: | 93.5m |
| Beam: | 13.8m |
| Draught: | unknown |
| | |
| Tonnage: |  2,854 GT,   4,722 DWT |
| Propulsion: | Single Screw |
| | |
| Launch Date: | Sep   1944 |
| Shipyard: | Hitachi Sakurajima |
| Sinking Date: | Dec   1944 |
| | |
| Max Depth: | 22m to bottom |
| Min Depth: | 11m to keel |
| Orientation: | Upright sitting in  the sand.  Broken into 2 pieces, bow to west |