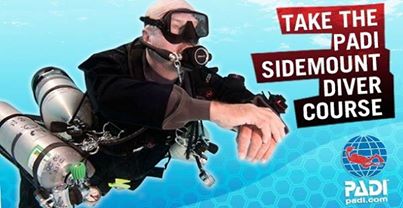 PADI Sidemount Speciality is a scuba diving equipment configuration which has diving cylinders mounted alongside the diver, below the shoulders and along the hips, instead of on the back of the diver.
PADI Sidemount Speciality begin as a configuration popular with advanced cave divers, as smaller sections of cave can be penetrated and tanks can be changed with greater ease. The same benefits for operating in confined spaces were also recognised by divers who conducted technical wreck diving penetrations.
Find a new and different way to configure your cylinders with the PADI Sidemount Specialty Course. Sidemount diving offers:
an alternative way to streamline in the water
easier equipment transportation when topside
reduced lower back strain
provides redundant gas supply
ability to monitor all equipment because it's in front of you
increased gas supply for longer dives
Because you are able to move the cylinder from your back to your side, it instantly takes the pressure off your back and gives you more flexibility to move and enjoy your dive. Plus, you don't have to walk to the dive site with the cylinders on your back. You can enter the water and clip them on and go.
Prerequisites:
15 years of age
PADI Open Water Diver Certification or equivalent
For more information, visit https://www.padi.com/courses/assistant-instructor.
Check out more PADI Courses and specialty courses we offer at https://gs-diving.com/padi-courses/