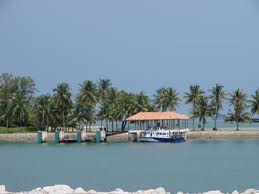 Pulau Hantu is the most commonly dived site in Singapore. There a number of different sites to choose from.
Diving Pulau Hantu! We choose the dive sites based on the weather and tidal flow. We avoid dive sites that have strong currents. This is easily done. Hantu is a big island!
Although visibility at Pulau Hantu can be a challenge on some days, you can expect that the average viz is between 3-4 metres.  We have experienced up to 10 metres visibility during certain months of the year.
The diversity of marine life here is startling. Dive among the sea fans, sponge corl, soft coral and anemone that have made this a sanctuary.
Commonly spotted during Hantu dives are the anemone fish, hermit crabs, flower crabs, barracuda, nurse sharks, black trip ref sharks, seahorses, spanish dancers, sea slugs and resident turtles.
Many different species of nudibranchs can also be found here along with the slug since nicknamed "Shaun the Sheep". Most recently in August 2015, we even saw a sawblade shrimp, which is a very rare find.  It is a macro lovers dream and it only 45 minutes by boat, from Singapore.
We dive Hantu all year round, every weekend, morning and afternoon. The half day trips includes 2 dives, tanks, weights, weight belts, masks, fins and wetsuits. BCDs, regulators and dive computers can be rented on the day.
For more information, visit https://www.padi.com/courses/assistant-instructor.
Check out more PADI Courses and specialty courses we offer at https://gs-diving.com/padi-courses/