About the Boat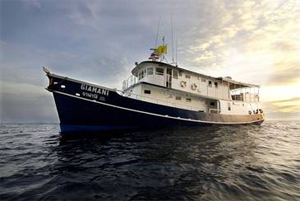 Built in 1998, she is a 78 feet long steel Live on Board (LOB) boat.
On board there are 2 Standard cabins and four Deluxe cabins to accommodate 12 guests on each trip.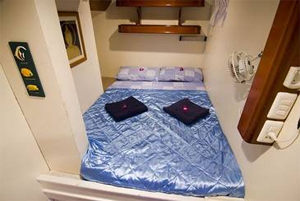 The two air conditioned standard cabins are situated on the upper deck behind the wheel house; these spacious cabins each have two single berths and share one bathroom.
On the main deck we have four Deluxe cabins, each cabin has three single berths, which is very popular for divers travelling with kids. Each Deluxe cabin has its own air conditioning unit, en-suite bathroom and the cabin door opens to spectacular sea views.
Enjoy the air conditioned saloon for watching a movie, playing back your digital images from that day's dives, or browse through the extensive library of marine books. The popular cushion relax area gives you plenty of space to read a book, enjoy the views and chat about the thrilling dives of that day.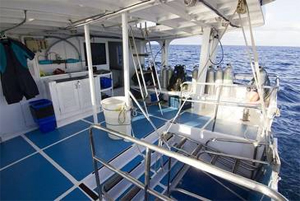 The dive deck is spacious with camera tables and rinse tanks making this an ideal boat for serious photographers.
Floorplan