You've taken your Open Water Scuba Diver Course and now you're ready to expand your knowledge but you would like to see what is out there first.
SDI Advanced Adventure Diver Course will give you an overview of five (5) selected SDI specialties.
This course is intended to introduce you to each of the five (5) specialties, but not complete comprehension of the chosen specialty.
One (1) dive from each of the chosen specialties may apply towards a complete SDI Specialty Certification.
Why should I gain certification as a SDI Advanced Adventure Diver?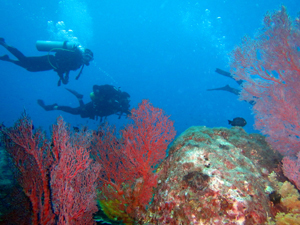 After your five dives and theory lessons, you'll be more experienced, feel more comfortable in the water and simply enjoy diving more because you'll better understand the underwater environment and the gear and equipment required for safe diving practices.
For most people after completing their Open Water Scuba Diver Certification, this is the natural progression on the road to furthering their diving career.
Prerequisites:
12 years of age
SDI Open Water Scuba Diver certification or equivalent
SDI Advanced Adventure Diver Specialties:
This certification requires that you complete five (5) Adventure Dives in total.
The two complusory specialities are:
Deep Diver
Navigation Diver
Plus any 3 of the following:
Advanced Bouyancy
Boat
Computer Nitrox Diver
Diver Propulsion Vehicle (DPV) Diver
Drift Diver
Equipment Diver
Marine Ecosystems Awareness Diver
Night / Low Visibility Diver
Research Diver
Search and Recovery Diver
Shore / Beach Diver
Solo Diver
Underwater Navigation Diver
Underwater Photography Diver
Underwater Video Diver
Wreck Diver
You and your instructor will choose the most appropriate Adventure Dives for your chosen dive location and personal interests.
Program Schedule:
The Adventure Dives will take place at a suitable open water training site (either in Singapore, Malaysia or even further overseas!). The options available will be discussed with your Instructor upon commencement of the course.
What is included in the program?
All course materials
Air cylinders
All necessary dive equipment
Medical statement, safe diving practices and liability release forms
SDI Advanced Adventure Diver certification card