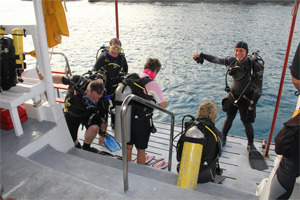 SDI Rescue Diver Course is designed to develop your knowledge and necessary skills to effectively perform diver rescues and assist, and administer necessary first aid.
You will learn skills such as how to perform self rescues, buddy rescues, recognise and calm potential panic divers, administer proper first aid to divers that have experienced dive related injuries, conduct effective search patterns and manage accident scenes.
Self Rescue:
Recognising and managing stress in other divers
Emergency management and equipment
Rescuing panicked divers
Rescuing unresponsive divers
Prerequisites:
15 years of age
SDI Advanced Open Water  certification or equivalent
CPR, First Aid certification
You and your instructor will choose the most appropriate Adventure Dives for your chosen dive location and personal interests.
Program Schedule:
The Rescue Dives will take place at a suitable open water training site (either in Singapore, Malaysia or even further overseas!). The options available will be discussed with your SDI Instructor upon commencement of the course.
What is included in the program?
All course materials
Air cylinder
Medical statement, safe diving practices and liability release forms
SDI Advanced Adventure Diver certification card
CPROx1st