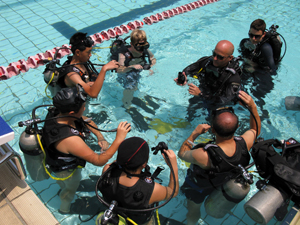 For those who want to test the waters, this is the course for you.
SDI Scuba Discovery Program gives you a glimpse into what you can expect to see in the underwater world as well as what you could expect to learn in the SDI Open Water Scuba Diver Course.
You will be shown the basic safety procedures for enjoyable scuba dives under the watchful eye of an SDI instructor.
Prerequisites:
18 years of age or 10 years of age with parental consent
Demonstate comfort in the water with adequate swimming skills
Your SDI Instructor will also cover:
Equalizing your ears
Buddy checks
Basic buoyancy control
Underwater communication
You will also be given an introduction to basic scuba equipment and scuba skills.  If you enjoy this experience then the SDI Open Water Scuba Diver course is your next step.