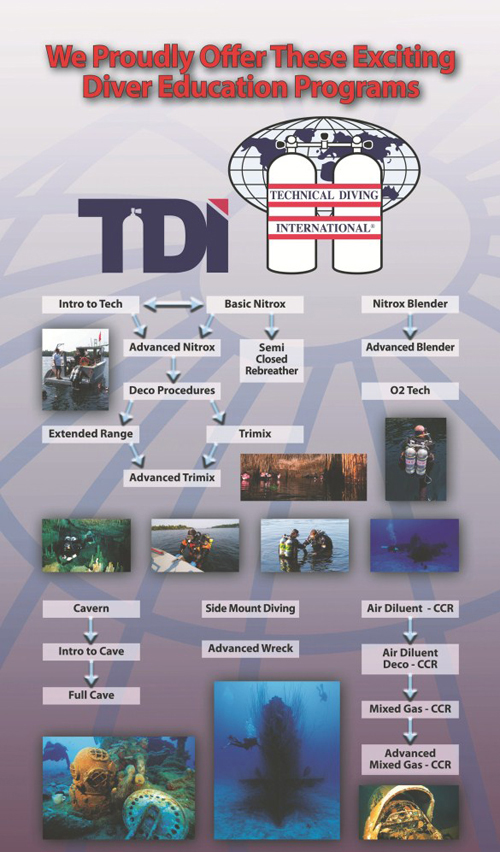 Technical Diving International (TDI) is the largest technical certification agency in the world.  As one of the first agencies to provide training in mixed gas diving and Rebreathers, TDI is seen as an innovator of new diving techniques and programs which previously were not available to the general public.
TDI offers one of the largest ranges of technical diving courses including Intro to Tech, Advanced Nitrox, Advanced Trimix, Advanced Cave and wreck penetration, Rebreathers training and more.
TDI's professionals are held to the highest standard to ensure quality training throughout the world.  Just as it would take your commitment to complete a technical diving course, your TDI instructor would have gone through a much more stringent process to become part of the TDI family.
TDI is committed to offering the highest quality training supported by the latest materials with the most up to date information and techniques. TDI's materials are written by authors that acutely conduct the type of diving they are writing about.
TDI online learning – click here
Those same materials are updated as technology and equipment changes. With TDI, your options for dive training just became much wider. Start your technical training with TDI now.
Learn to dive today in Singapore with GS-Diving.
SCUBA Diving theory and pool training sessions are conducted in Singapore and the open water dives are generally done in Malaysia, Indonesia or in local Singapore waters.
Let's start your learning today, contact us to co-ordinate our schedules. Scroll down below, to see all course options.