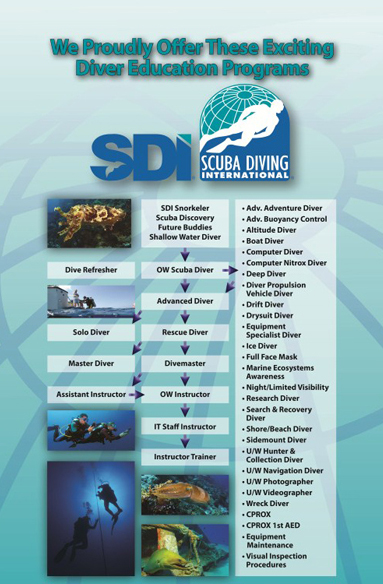 Scuba Diving International (SDI) is one of the fastest growing sports diving agency in the world. SDI is recognised worldwide for it's innovative approach in scuba diving training and is also a member of World Recreational Scuba Training Council.
SDI achieved ISO Global Certification in June 2012 and has now secured the highest level of third party validation that any company can achieve.
SDI offers a list of comprehensive scuba diving courses for both the new as well as experienced divers. SDI is the first agency that equips the students with dive computers from their Openwater courses onwards. This early adaptation of technology proves to be a hit as it allows the student to enjoy diving in a safer and more stress free approach. SDI is also one of the only scuba agencies to endorse a proper Solo Diver program where the more experienced divers are taught how to handle diving emergencies or even prevent them before they happen. These are just two examples of innovative programs that we brought to you.
SDI is also the first scuba training agency to bring the Online Training program to you. The courses available online include Openwater Diver, Computer Nitrox Diver, Deep Diver, Wreck Diver and Navigation Diver. Professional level of Divemaster, Assistant Instructor and Openwater Instructor are available online as well. Now you can take the first step of scuba diving anytime, anywhere.
Learn to dive today in Singapore with GS-Diving.
SCUBA Diving theory and pool training sessions are conducted in Singapore and the open water dives are generally done in Malaysia or Indonesian waters or Singapore waters.
Let's start your learning today, contact us to co-ordinate our schedules. Scroll down below, to see all course options.